Deprecated
: The PSR-0 `Requests_...` class names in the Requests library are deprecated. Switch to the PSR-4 `WpOrg\Requests\...` class names at your earliest convenience. in
/home/jdeeze/thefactninja.com/wp-includes/class-requests.php
on line
24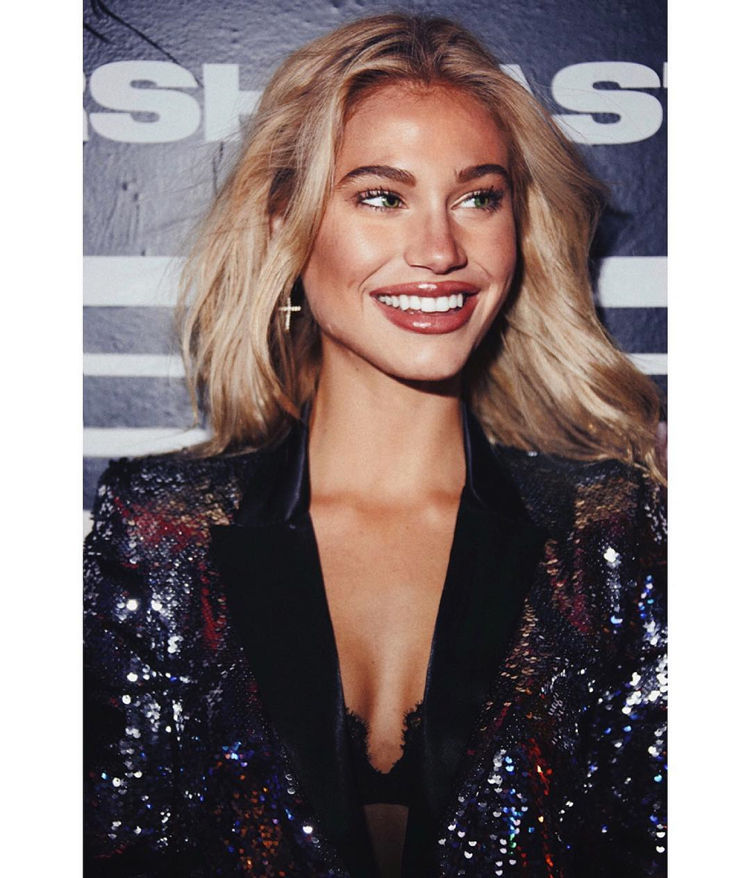 Meredith Mickelson is an American super model and social media star. She is represented by the agency, Next Model Management and her resume has included work for popular brands like Calvin Klein and Maybelline.
She has amassed millions of followers across her social media accounts on Twitter and Instagram. She also runs a popular YouTube channel called MickCheese.
Below is a short bio, where we highlight 19 facts about Meredith Mickelson. Find out things such as her age, birthday, who she has dated, tattoos and more.
Age/Birthday. Meredith Mickelson is [showcurrentage month="7″ day="1″ year="1999″ template="1″] years old. Her birthday is July 1, 1999. Her zodiac sign is Cancer.
Birthplace. She was born and raised in Atlanta, Georgia. She currently lives between Atlanta and Los Angeles.
Siblings. Daniel Mickelson (Older Brother)
Modeling Career. Meredith was first scouted when she was only 14 years old. Speaking with High Snobiety about how she got into modeling, she explained "I got scouted when I was 14, but I didn't take it serious until I was 16 — at 16 moved out to LA."
She has worked with New York Model Management, Next Model Management Miami. Salt Models in Atlanta and Freedom in Los Angeles.
How Tall is She? Meredith Mickelson's height 5′ 11" (180 cm)
Measurements. Her (bust, waist, hips) 32"-24"-33.5". She wears size 9.5 shoes. She has blond hair and green eyes.
Online Schooling. Due to the time that her modeling career took up, Meredith Mickelson finished her schooling online. She explained the reason for it in an interview with C-Heads.
"During school my thoughts were concentrated more on modeling than on school. I was consumed with becoming a better model and how to do so. … I was exceedingly distracted by my thoughts about modeling. It wasn't fair to my teachers or to myself if I couldn't give 100%. I felt that if I could flip flop school and work I could do what I love and still get my education. I could work during the day and online school in the evening. It has worked out very well. Online school has allowed me to take advantage of opportunities that would not have been available to me had I continued regular school."
Role Model. She looks up to fellow model, Candice Swanepoel.
Boyfriends/Who She Has Dated
Ethan Dolan. Meredith was reported to be dating Youtuber, Ethan Dolan in 2015.
Kian Lawley. In 2017, Meredith was linked with social media star, Kian Lawley.
Drew Taggart.  In 2018, Meredith Mickelson was rumored to be dating Drew Taggart of the band, the Chainsmokers.
Brooklyn Beckham. Rumors started to swirl, when Meredith Mickelson was spotted at Coachella in 2018 with Brooklyn Beckham, the son of the soccer legend David Beckham and Spice Girl Victoria. The two were seen sharing frozen yogurt and milkshakes.
Childhood Love. As a teenager, Meredith would spend hours body surfing when she would vacation with her family in the summers in Destin Florida.
MickCheese. MickCheese is a YouTube channel that Meredith runs with her best friend and fellow model, Chase Carter.
Los Angeles or New York? I prefer LA because I LOVE the sun & ocean but when I'm ready to get away from LA, New York is the perfect place to go. I can never ever get tired of the city lights and rush I get when I'm there.
Workout. Speaking with Good American, Meredith explained how she keeps in shape. "YES! I go to Soul Cycle & Rumble Boxing as much as I can. I swear it's like going to church—I come out feeling like a new woman who can take on anything—& occasionally a hike or a run. I also eat VERY clean. I don't really go out and try new foods, which I know I should but I stick to broccoli, avocado and my salad at Sweetgreen (of course add Sriracha)."
Favorite Musicians. Drake & Bryson Tiller.
Tattoo meaning? She has a tattoo on her right arm, in Chinese characters.
— Meredith Mickelson (@meredithmgm) June 5, 2017
Social Media.  You can follow Meredith Mickelson social media accounts on Instagram and Twitter.