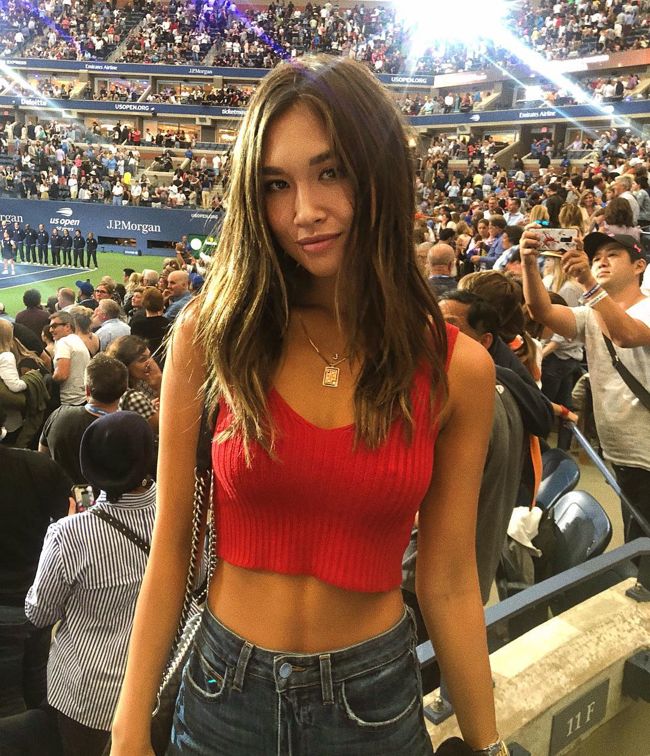 Jocelyn Chew is a Canadian model, that is signed to the Wilhelmina modeling agency. In the late part of 2018, it is rumoured that she is the new girlfriend of Hip-Hop mogul, Sean Combs, AKA "Diddy" "P. Diddy".
Take a look at these 16 interesting facts about Jocelyn Chew. Get a quick biography, find out her age, birthday, height and much more.
Birthday. Jocelyn Chew's age is 31. Her birthday is May 15, 1992. Her Zodiac sign is Taurus.
Birthplace. She grew up in Victoria, Canada. She grew up on a farm and speaking with C-Heads, she explained "I grew up on a small farm and I've always had a giant spot in my heart for all wildlife. "
Ethnicity. She is mixed, she is half Chinese and half Icelandic.
Nicknames. She often goes by the names Joce Chewbacca or Jaws
She started Modelling at 16. She was scouted when she was 16 and she quickly started doing modelling gigs across the globe. She lived in Hong Kong, Singapore and Greece.
Wilhelmina. She is signed to the prestigious Wilhelmina modeling agency. She has worked with a variety of big named brands such as Ralph Lauren and American Eagle.
Measurements. Jocelyn Chew's height is 5'8.5″. her bust 32″ b, waist 23″, hips 33″, hair brown, eyes hazel. Dress size 0-2 us. Shoe size 8 us
The Face. In 2013, Jocelyn Chew was one of 24 aspiring models on the fashion reality-TV shoe, The Face. It was during the show that she was mentored by supermodel, Naomi Campbell. In speaking with Zimbio, Jocelyn explained the biggest piece of advice Naomi gave her. "I would say all the walking advice she gave. I mean, she's the queen of the catwalk so there's no one to better teach you"
Blogger. She has a lifestyle and fashion blog called Jet Set Joce. She blogs about different things from travel, fashion and food.
Ex-Boyfriend. Jocelyn once dated social media star Jesse Waits.
Diddy. In October 2018, it was reported that Jocelyn Chew was reportedly dating rapper and entrepreneur, Diddy.
The two have been spending a lot of time together. They travelled together to Miami as a couple and they were also see coupled up at a recent Drake concert.
Justin Bieber. Jocelyn appeared in Justin Bieber's music video for his hit song, 'Boyfriend'.
Extreme Sports. Ms. Chew has an affinity for extreme sports, I mean, she has jumped out a plane already. She gave some insight into her love for extreme sports in an interview with C-heads. "I love extreme sports! Or anything with an adrenaline rush. I think that's the best feeling ever. One of my favorite things I've done is sky dive with the red bulls guys. We did maybe 10 backflips in a row right out of the plane. It was amazing."
Her Favorite Place She's Visited. Jocelyn Chew has been all over the world, but there is one place that she absolutely loves and that would be Ibiza. She explained why when speaking with C-heads "I love Ibiza because I love the energy. I actually just got back from my yearly trip there last week. For the first time I rented a scooter and rode around the island, it was so much fun! I like that in Ibiza you can party with your friends and have fun, but also relax on the beach or go out on a boat."
Big Fortnite Fan. Jocelyn is also a big fan of the cult favorite video game, Fortnite. She posted a picture on Instagram holding a PS4 controller, stating: 'What's your user ID? Smdh I love Fortnite so much.'
Social Media. You can follow Jocelyn Chew on social media at Instagram, Facebook, Twitter, and Snapchat name: @jocechewbacca