Deprecated
: The PSR-0 `Requests_...` class names in the Requests library are deprecated. Switch to the PSR-4 `WpOrg\Requests\...` class names at your earliest convenience. in
/home/jdeeze/thefactninja.com/wp-includes/class-requests.php
on line
24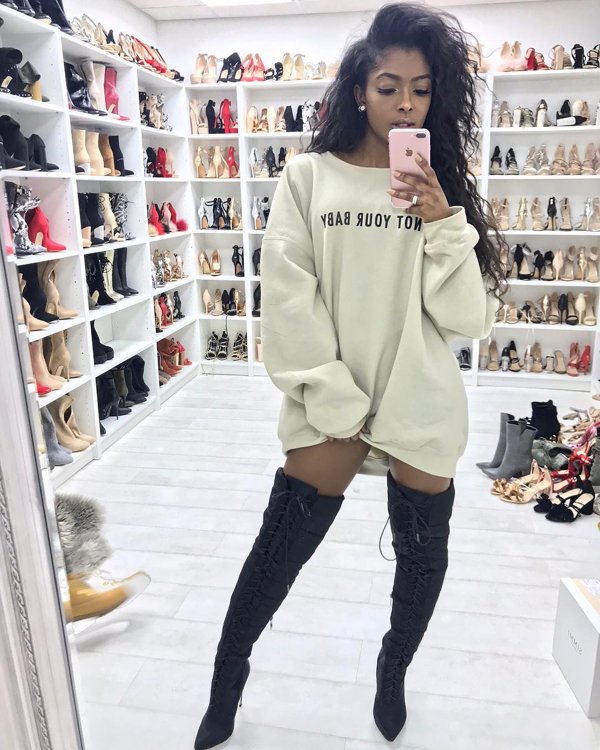 Jourdan Riane is a fast-rising model, who has also carved out a name for herself on social media, especially on Instagram and Youtube.
Take a look at these 18 Facts About Jourdan Riane, see her loves, quirks and more.
Birthday. Jourdan Riane's age is [showcurrentage month="3″ day="18″ year="1995″ template="1″]. Her birthday is March 18th, 1995. Her sign is Pisces.
Birthplace. She was born in England.
Ethnicity. A lot of people wonder about Jourdan Riane's ethnicity. Some confuse her for Eritrean, but her mom is Jamaican and her father is St. Lucian and Indian.
Measurements. She is 5' 4" tall (163cm), Her bust, waist and hip measurements are 30"-24"-34". Her bust size is D. Her dress size is 34 EU/4 US/6 UK. Her shoe size is Shoe35.5 EU/4.5 US/3 UK
Hair and Eyes. She has black hair and her eye color is brown.
What she wanted to be when she grew up? She wanted to be an actress when she was younger. She still hopes to someday become one and is using modeling as a platform to get her started.
What She Was Into When She Was Younger? Jourdan was raised in the performing arts. She used to do singing, dancing, acting and musical theater
She Used to Write Poetry. When she was younger, Jourdan would often write poetry. She had some of her work published.
Her Views on Marriage? In a Youtube Q&A, Jourdan made it clear that she intends on getting married, she will be getting that ring, it really depends on when she finds that right person.
Favorite Color? Jourdan's favorite color is black or blue
Tattoos. She currently has 3 tattoos. One on each wrist and one on her lower back.
Piercings. She has two in each ear, one in her belly button and nipple.
Favorite food. Pasta and cheese
Favorite movie. She loves the Pirates of the Caribbean series.
Weirdest Movie.  She emphasized that Old Boy, was one of the weirdest movies she has ever seen.
Her Favorite Type of Music. Jourdan Riane absolutely loves old school music, especially 90's R&B.
Biggest Pet Peeve. One of Jourdan's pet peeves would be people who chew with their mouths open. She also hates when someone texts her to call her right away and she does, but they do not answer.
Social Media. Jourdan Riane has a growing following on social media and you can follow her at:
INSTAGRAM: jourdanriane
TWITTER: jourdanriane 
SNAPCHAT: jjriane