Deprecated
: The PSR-0 `Requests_...` class names in the Requests library are deprecated. Switch to the PSR-4 `WpOrg\Requests\...` class names at your earliest convenience. in
/home/jdeeze/thefactninja.com/wp-includes/class-requests.php
on line
24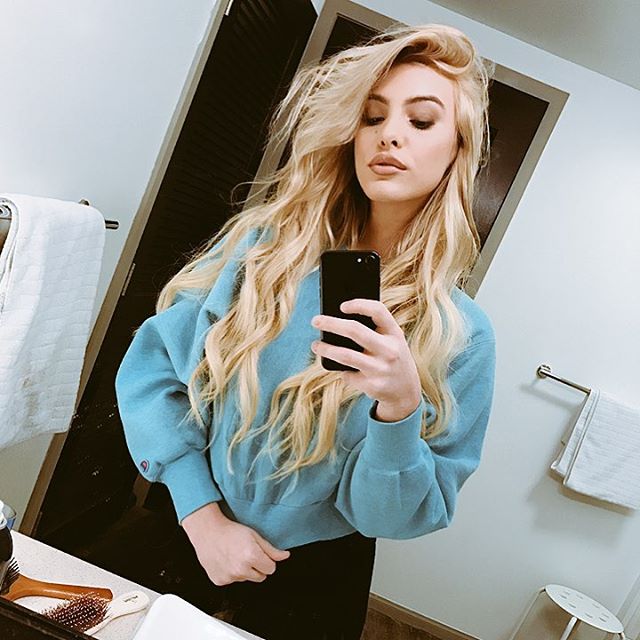 Lele Pons gained her popularity from Vine and effortlessly transitioned into Youtube and other social media sites. With her hilarious humor and amazing wit, it is easy to see why Lele is so popular.
Below, I look at 23 super-amazing Lele Pons facts. Every fan of this media star should give it a read, as I know there are things you don't know about her.
Her Full Name
. Eleonora "Lele" Pons
Her Birthday. June 25, 1996. Her birth sign is Cancer.
Where She Was Born? Lele was born in Caracas, Venezuela, and moved to the U.S. at age five
Where She Grew Up? After moving to the U.S.m she lived in Miami, Florida. Once she finished high school in 2015, she made the move from Miami to the City of Angels (Los Angeles).
Her High School. She attended Miami Country Day High School.
She was Bullied. Lele  Pons was relentlessly bullied during high school by her classmates. They would make fun of the way she spoke with an accent, as well as her nose. In an interview with People.com, Pons explained "People threw food at me and sang songs about how ugly I was,"
Her Rise to Fame on Vine. Pons started using the Social Media app Vine when she was 16. She explains "I started with my friends, and I started becoming good. At first it was just being really creative—it wasn't even funny stuff."
She Became Really Popular. As her presence on Vine grew, so did her popularity. Lele Pons became the first user to pass 1 billion video loops. With the shutdown of Vine, Pons' account is listed as the most looped of all time with 16.7 billion loops.
Do It for the Vine. Lele Pons is credited with creating the super popular catch phrase "Do It For The Vine".
Lele Wrote a Book. Pons teamed up with New York Times bestselling author Melissa de la Cruz, for her book, 'Surviving Highschool' that was released in April 2016.  The books highlights the ups and downs that come with high school life. It is rip roaring hilarious, just like some of Lele's videos.
She Acts
. Lele Pons has appeared in the American horror TV show Scream in 2016. She has also acted in the TV series Escape the Night. Pons has also done movies like The Space Between Us and We Love You.
Her biggest goal. Pons has one major goal and that is to "Be an actress in movies. I would love to have a career like Meryl Streep's someday."
AHHHHH So excited to share that I am partnering with @COVERGIRL to be their newest Brand Ambassador! 😘 https://t.co/4Kiulb8S3t

— Lele Pons (@lelepons) February 9, 2017
She is a CoverGirl. It was announced in February 2017, that Pons would be the new Brand Ambassador for cosmetic giant, CoverGirl.
She Made Forbes 30 Under 30 List. She was listed as one of Forbes 30 Under 30: Hollywood & Entertainment. She joins the ranks of other up and comers like Cameron Dallas, Ryan Higa, Tyler Oakley and Elle Fanning.
Award Winner. In 2016, Pons won an award for the Best Viner at the Teen Choice Awards. She also has a bunch of nominations such as 2014 Teen Choice Award nom for "Choice Viner. Shorty Awards nom for "Vine Star of the Year" and Streamy Awards nom for "Viner of the Year".
Michelle Obama Invited her to the White House. In 2015, Lele was invited to the White House, where she worked on a campaign for disadvantaged kids to go to college with FLOTUS Michele Obama.
Her Boyfriend
Before and after pictures!! pic.twitter.com/Q5o9VffhhU

— Lele Pons (@lelepons) November 16, 2015
She Got a Nose job. Pons always had an issue with her nose growing up and in 2016 she had work done on it.
Favorite take out order: Lele Pons really loves Pizza
Dream mentor: Shakira
What She Can't-live-without? Lele Pons has made it clear that she is lost if she doesn't have her Apple iPhone 7.
The emoji she uses the most. She has admitted that the laughing smiley emoji with tears is the one emoji she uses the most. This makes sense, as she is always cracking jokes and making people laugh.
Morning person or night owl: Night Owl
Go-to karaoke number: "Gasolina" by Daddy Yankee
Her Most Popular Youtube Video:
Her Social Media Accounts:
Lele Pons has a massive following on social media. You can connect with her at the various accounts below.
Vine.co – @lelepons
Instagram.com – @lelepons
Twitter.com – @lelepons
Youtube.com – @lelepons
Snapchat.com – @lelepons