Deprecated
: The PSR-0 `Requests_...` class names in the Requests library are deprecated. Switch to the PSR-4 `WpOrg\Requests\...` class names at your earliest convenience. in
/home/jdeeze/thefactninja.com/wp-includes/class-requests.php
on line
24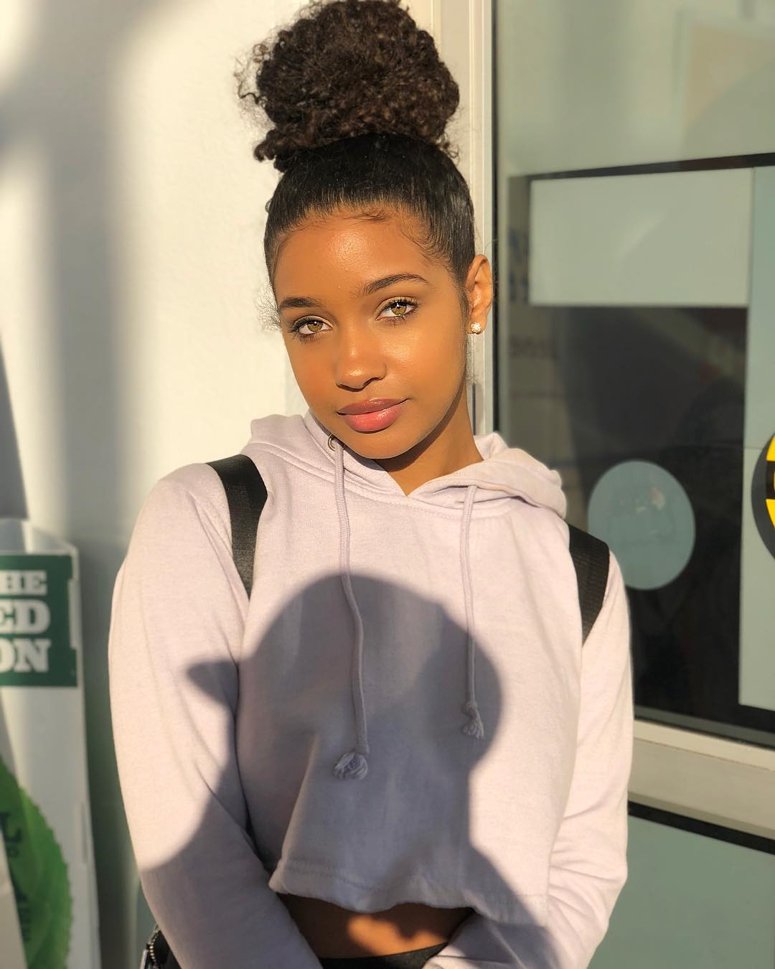 With her curly hair, amazing personality and breathtaking looks??, Youtube star, Corie Rayvon it is easy to see why she is one of the most popular stars on social media.
Because of the impact Corie has in the digital world, it is easy to see why people want to learn more about her.
Below, I present the 22 facts about Corie Rayvon that every fan ought to know.?
Full Name
Corie Rayvon Smith
Birthday/Age
Corie Rayon is [showcurrentage month="7″ day="2″ year="1996″ template="1″] years old. Her birthday is July 2nd, 1996. Her birth sign is Cancer.
Birthplace
She was born and raised in Houston Texas but moved to Los Angeles in 2015 to pursue a career in modeling and acting.
High School
She attended Pearland High School and she actually graduated six months early.
Height
Corie Rayvon is 5' 4.5" tall. Most people think that she is taller, but she is pretty average.
Eye Color
Corie's eye color changes depending on the weather or the type of clothing that she's wearing.
Childhood Nickname
Growing up, Corie was called Poopie or Poopie Doop
Boyfriend
Corie Rayvon used to date Youtuber Khalil Underwood. The relationship fell apart, but Corie has admitted that while she still has feeling for Khalil, she is still cool with him.
Best Friend
Corie Rayvon is best friends with fellow Youtuber and social media star, Jilly Anais. Corie used to be really good friends with another Youtuber Ashley Ortega, but that friendship is no more.
Animals
She absolutely loves dogs. ?She shared a dog with her ex-boyfriend Khalil Underwood.
Favorite Food.
She really really loves Mexican food.??
Computer Nerd.
Computer nerd. Fix, use hard programs and can learn programs quickly like Photoshop.
Bikini
Corie set Youtube on fire when she posted her bikini haul and modeled it for her fans to see.
Favorite TV Shows
Corie Rayvon has stated that her favorite shows are True Blood, Vampire Diaries, Supernatural, Mobsters and Bob's Burgers. She loves documentaries on celebrities.
She Loves Video Games
Corie is a big gamer! Her favorite game of all time would have to Grand Theft Auto.
Reading
She loves to read before she goes to bed, it just relaxes her.
Travel
She has never travelled out of the US
How She Got Into Makeup?
Corie got into makeup in her junior year of high school. Her sister did her makeup for prom and she was blown away by who she saw in the mirror. She has a couple vids on Youtube without her makeup on, but she shows you how to put it on.
Weirdest Thing She Ever Ate
She used to eat chitlins (pig intestines), when she was little, but she finds it repulsive now and she doesn't know how she used to eat it.
Twerking
One of Corie Rayvon's most popular Youtube videos is one of her twerking with her one time friend, Ashley Ortega.
Personality
Corie has admitted that she is shy, but she is working on getting out of her shell.
Social Media
Corie Rayvon has amassed a ton of fans on social media and you can follow her on:
Twitter: @corierayvonn
Instagram: @corierayvon
Snapchat Name: CorieRayvon
Youtube: CorieRayvon