Deprecated
: The PSR-0 `Requests_...` class names in the Requests library are deprecated. Switch to the PSR-4 `WpOrg\Requests\...` class names at your earliest convenience. in
/home/jdeeze/thefactninja.com/wp-includes/class-requests.php
on line
24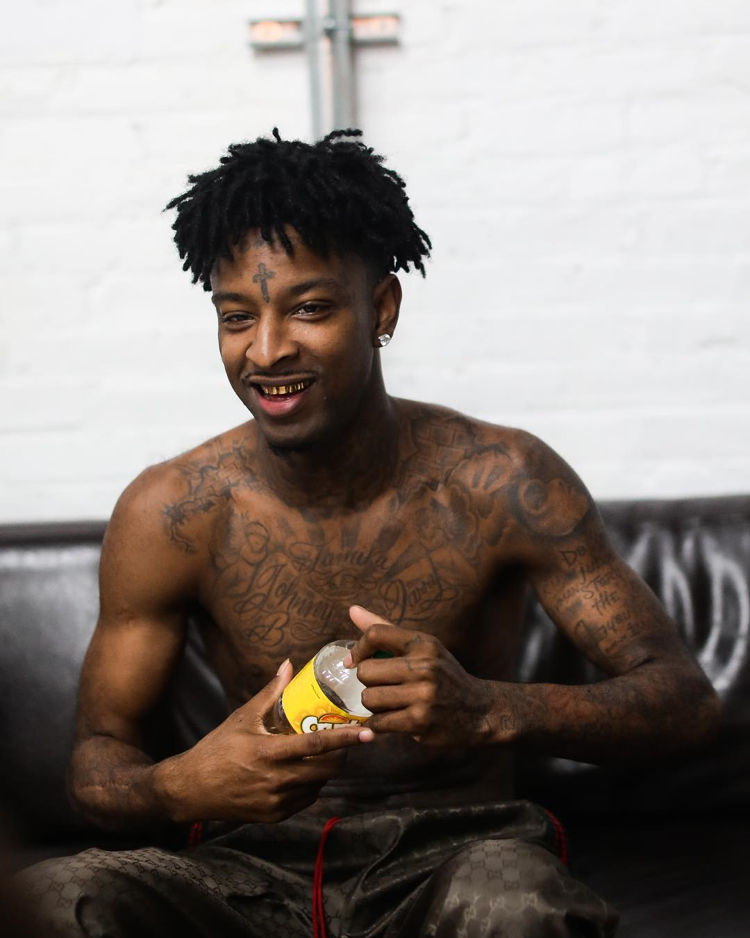 21 Savage, also known as the Slaughter King, is a Dominican born American rapper, writer and producer. Though he has been making professional music for less than three years, Savage has quickly become one of the biggest rappers in Atlanta and the US.
In just 3 years, he has amassed a total net worth of 6 million dollars, and has collaborated with some of the biggest names in Hip Hop and R&B. His latest collaboration with rapper Post Malone, titled 'Rockstar', is the rapper's most successful song to date. The single reached no 1 on the US Billboard Hot 100 chart, and peaked at the top of the charts in several other countries including Australia, Canada, Portugal, Norway and the United Kingdom.
To find out more about rising star 21 Savage, check out these super interesting facts below.
How Old is 21 Savage?
21 Savage's age is [showcurrentage month="10″ day="22" year="1992″ template="1″]. His birthday is October 22, 1992. His Zodiac sign is a Libra.
What is 21 Savage's Real Name?
The rapper's full name is Shayaa Bin Abraham-Joseph.
What Does 21 Savage Mean
In an interview with HotNewHipHop.com, he explained how he got the name. "21, that's my gang, that's my crew," He went on to explain that "Savage came out of nowhere. I was just looking for an Instagram name,"
Where is 21 Savage From?
He was born in the Caribbean island of Dominica, but later moved to the violence ridden community of Decatur, in East Atlanta, Georgia. His nationality is Hatian/Dominican. His father was Hatian and his mother was from Dominica.
The Rapper's Family Life
The rapper grew up in a single parent household with his mother and siblings. His brother Tay was murdered when the rapper was 21 years old. In an ode to him, Shayaa got a dagger tattooed between his eyes.
Does 21 Savage Has Kids?
The rapper reportedly has three children of his own. Two of them were already born by the time he was 19 years old.
What's 21 Savages' Ethnicity?
He identifies as Caribbean American. His father is of Haitian heritage, while his mother Heather is Dominican.
What's His Religion?
21 Savage is allegedly an active practitioner of the Ifá faith, which is said to be an Afro-American religion with roots in Africa
His Education
Shayaa was expelled from Stone Mountain Middle School in the seventh grade, after he brought a pistol to school, supposedly to protect himself from bullies. He later enrolled in and was kicked out of several schools in his county. His mother placed him into a school in neighboring Gwinnet County, where he thrived for a few months before eventually dropping out.
Sporting Interests
While in high school at Gwinnet County, the rapper played in the football program both as wide receiver and as cornerback.
How Tall is 21 Savage?
The rapper is 6 ft.(183 centimeters) tall.
21 Savage's Tattoos.
The most prominent thing about 21's image is the dagger he has tattooed on his forehead. The ink is actually a tribute to his younger brother Tay who was murdered in a drug deal gone bad.
21 Savage and Drake.
The rapper and singer Drake are very good friends. Drake stunned fans when he bought the Atlanta rapper a new Ferrari for his 24th birthday.
21 Savage Girlfriends
Recently, the rapper dated former stripper and social media personality Amber Rose. The two were reportedly engaged and very much in love, however, the two split after dating for 2 years.
Before He Got Famous
21 was heavily involved in crime. Besides dealing in drugs, he also participated in multiple robberies and was a part of a gang. When he was 16 years old, Shayaa's gang decided to call themselves '21' and the teen tattooed the moniker on the side of his face.
Legal Problems
The rapper has been arrested several times, both before and after becoming famous. He has been charged for possession of drugs, robbery and illegal possession of firearms.
21 Got Shot Six Times
On his 21st birthday, Savage was shot six times by two assailants during a drug deal that turned into an attempted robbery. His best friend, Johnny, was killed in the incident, which served as Shayaa's deterrent from a further life of crime.
His First Album
Savage released his first EP, 'Savage Mode', a collaboration with producer Metro, on February 4th, 2017. The EP achieved huge international success, reaching no. 23 on the Billboard 200 chart. In May 2017, the album was certified gold. The top performing single from the EP 'X' (a collab with rapper Future) gave Savage his first platinum track recognition.
Awards.
The rapper's first accolade came when he was named as one of the 'Freshman Class' of 2016 by famed Hip Hop magazine 'XXL'. The rapper has been nominated for several 2018 BET Hip Hop Awards and also for top new artiste at the 2018 Billboard Music Awards.
Musical Influences?
21 Savage is a big fan of fellow Atlanta city rapper Gucci Mane. He is quoted as saying that Gucci opened up a lane for street n*ggas to rap from East Atlanta, so that's why he salutes him.
What's His Social Media?
You can follow 21 Savage on social media at Instagram, Facebook, Twitter, YouTube and Snapchat name: @ Savage730