Deprecated
: The PSR-0 `Requests_...` class names in the Requests library are deprecated. Switch to the PSR-4 `WpOrg\Requests\...` class names at your earliest convenience. in
/home/jdeeze/thefactninja.com/wp-includes/class-requests.php
on line
24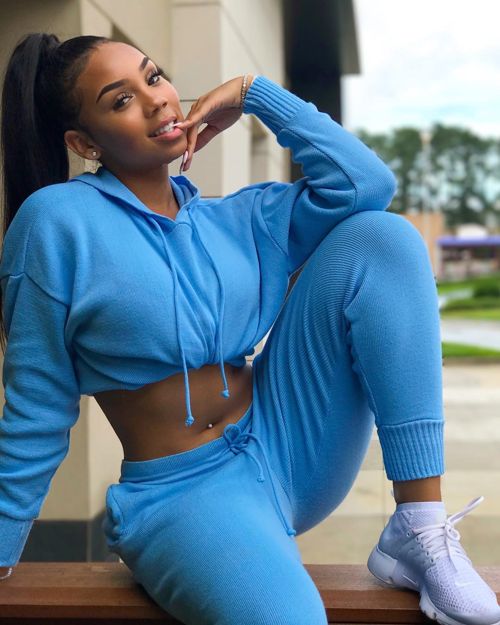 Aaleeyah Petty is an American social media star, who has seen her digital presence grow thanks to the photo-sharing app, Instagram.
If you want to learn more about this rising star, take a look at these 20 facts about Aaleeyah Petty. Some of them are pretty interesting and you get some insight into Aaleeyah as a person.
Birthday. Aaleeyah Petty's age is [showcurrentage month="7″ day="3" year="1994″ template="1"]. Her birthday is July 3, 1994. Her Zodiac sign is a Cancer.
Birthplace. Chicago, Illinois.
Los Angeles. Aaleeyah moved to Los Angeles when she was 19 to further pursue her dreams.
Real Name: Aaleeyah Petty
The Meaning of Her Name. Her name is Arabic and it is the feminine of the name Ali, meaning "high" and "exalted".
How Tall is Aaleeyah Petty? She is 5' 8"
Pets. She has a dog named Coco.
Current Boyfriend. Aaleeyah Petty is currently dating Cameron Payne, a NBA player who plays for the Chicago Bulls.
Past Boyfriends. In the past, Aaleeyah was been romantically linked to basketball player, Quincy Cortez Miller as well as rapper Rich The Kid.
Ethnicity. She is African American, however people often think she is mixed with Asian or White.
Vine. She had a pretty successful Vine account, before the social media network shut down. She would often collab with other viners like Wuz Good and Melvin Gregg.
Plastic surgery. Many people feel that Aaleeyah has had some plastic surgery done, especially a boob job. She explained that she isn't' against women changing their body, however she has had no work done.
https://www.youtube.com/watch?v=a-B2e4KSHYo
School. Aaleeyah Petty has confessed that she was nerd in high school and college. She was always an A+ student and her focus in life was really school.
Sports as a kid. She used to run track in high school
Sliding into her DM's. She gets a lot of x-rated content from people, as well as celebrities trying to holla at her.
Strange request in her DM. She once was asked to go to Istanbul Turkey to do some escorting work.
https://www.instagram.com/p/Bh2X3aSBklG/?taken-by=aaleeyahpetty
Her Likes. Because of her height, Aaleeyah really likes tall guys
Most Romantic Thing Ever Done. For birthday, had a trail of roses, balloons and a cake.
Her Past Job. To pay with her college tuition, Aaleeyah Petty was once a full time nanny. She was responsible for watching two little boys.
Turnoffs. Aaleeyah Petty hate's dumb guys. Don't know how to spell.