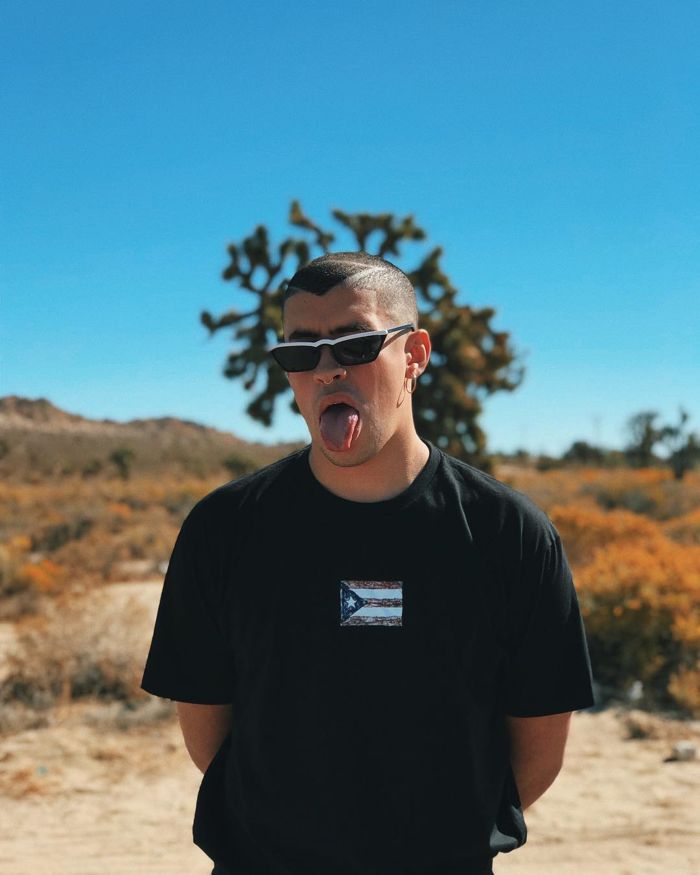 Bad Bunny is a Puerto Rican Reggaeton artist. He is known for such songs such as "I Like It", "Ahora Me Llama", "Soy Pero" and "Bailame"
Take a look at these 19 Bad Bunny facts. Get a quick biography, find out his age, birthday, favorite color and so much more.
Birthday: Bad Bunny's age is [showcurrentage month="03″ day="10" year="1994″ template="1″]. His birthday is March 10, 1994. His zodiac sign is Pisces.
Birthplace: He was born in San Juan, Puerto Rico
Real Name. Bad Bunny's real name is Benito Antonio Martinez Ocasio
Siblings. Bunny has two younger brothers.
Favorite Color. Bad Bunny's favorite color is red. Speaking with Billboard, he explained why his love for red led him to the outrageous pink hairstyle he once sported. "I love the color red, so I wanted to play on that with the pink, which adds something different to the funky shaven hair designs I usually sport."
Favorite Brands. Mr Bunny loves Gucci and Adidas.
What's His Height?  His height is 6 feet or 183cm…Get more details on Bad Bunny's Height here.
Early Job. He once worked as a bagger in a supermarket.
Church Choir. Martinez explained that when he was growing up, he was once in a church choir. He left during his teenage years and that is when he began freestyling.
Early Music. Bad Bunny has had an affinity for music from an early age. He actually started producing songs when he was about 13 or 14 years old.
University Dropout. After he finished high school, Bad Bunny attended the University of Puerto Rico where he studied audiovisual communication. He would eventually drop out and start working on his musical career.
How He Was Discovered?  While he was bagging groceries at the supermarket, he was also working on music and uploading songs to SoundCloud. One of his songs "Diles" caught the attention of DJ Luian who was impressed with what Bunny had to offer. He was quickly signed him to his record label "Hear this Music".
His Style. There is no doubt that he has a unique style and it is always changing. Speaking with Refinery29, he explained his style. "I have always had my own style," "It's an art for me, just as music is. I go off of how I feel, and that's how I get dressed."
Sunglasses. The Latin rapper has a love for sunglasses. If you take a quick look on his Instagram, you will always see him in something funky or unique. The Fader did a quick roundup on some of the times Bunny rocked awesome looking sunglasses.
His spirit animal. Bad Bunny's spirit animal is a bunny and talking with Billboard, he explained why. "My spirit animal is a bunny," he further explains. "Because rabbits are tender. I'm tender. And pretty."
Donald Trump. He has some bad feelings towards American President, Donald Trump. In 2017, at the Somos Live benefit concert, he wore a T-shirt that said. "Are you tweeter or president?" When asked about the shirt, he said: "It does not need an explanation, but he [Trump] will need a Puerto Rican or Mexican to understand the meaning. "
Nail Polish Fiasco. In mid-2019, Bad Bunny decided he needed to change his nail polish, while he was in tour in Spain. According to Remezcla, Bad Bunny wrote: "I just wanted to tell you all that I went to this sh***y place to get my nails done (manicure + color) and they told me NO because I'm a MAN hahaha," he went on to explain. "I don't know what to think, but it seems very very very unfortunate haha. What year is it? F***ing 1960? What do you call this?"
Musicians who inspire him.  Bunny has admitted that he has been inspired by artists such as Daddy Yankee, Marc Anthony, Tego Calderon, Hector Lavoe and Vico C.
Social Media. You can follow Bad Bunny at his different social media accounts on Twitter, Instagram, Facebook and YouTube. His Snapchat name is @san-benito