Deprecated
: The PSR-0 `Requests_...` class names in the Requests library are deprecated. Switch to the PSR-4 `WpOrg\Requests\...` class names at your earliest convenience. in
/home/jdeeze/thefactninja.com/wp-includes/class-requests.php
on line
24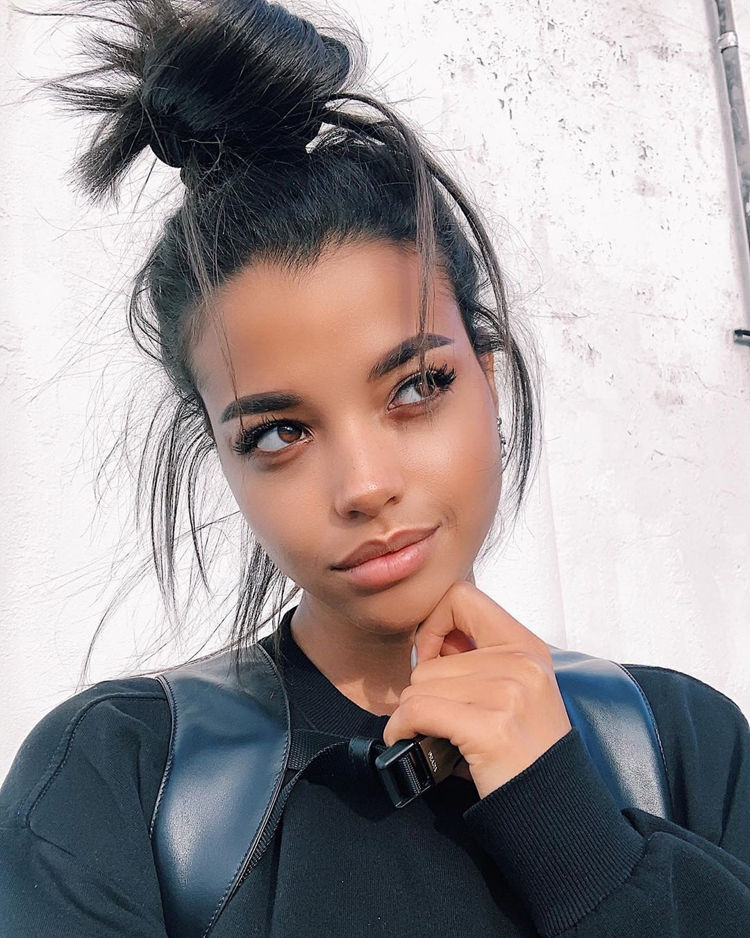 Ella Balinska is a British actress that is known for her role in the 2019 movie, Charlie's Angels. She is also the daughter of former supermodel, Lorraine Pascale.
If you want a quick biography or want to get to know her more, take a look at these 15 Ella Balinska facts. Find out cool facts like her age, birthday, height and much more.
Who is Ella Balinksa? Ella Balinska is a British actress that has done both television and film. Her big break came when she was cast as one of the leads in 2019's, Charlie's Angels movie.
Age/Birthday. Ella Balinska is [showcurrentage month="10″ day="4″ year="1996″ template="1″] years old. Her birthday is October 4, 1996. Her zodiac sign is Libra.
Birthplace. She was born in London, England.
Parents. Ella's parents are former supermodel, turned chef, Lorraine Pascale and Polish entrepreneur Kazimierz Balinski-Jundzill.
Her mother, Lorraine was the first black British model to appear on the cover of Elle Magazine. Her mother also had a cameo appearance in a video for Robbie Williams, the former Take That member.
Ella's mother, Lorraine would leave the modeling world and became a chef. She hosted shows like BBC's Baking Made Easy and she was also a judge on Holiday Baking Championship on the Food Network.
Ethnicity. Ella Balinska is mixed. Her mother is Jamaican, while her father is Polish. Ella addressed her mixed heritage in an interview in Vogue.
"There were times when I was younger and would be the only mixed-race person in the room. It was confusing, but I've since realised there's no real label that goes with it. It's more just about who you are and being true to yourself. Your people will find you."
How Tall is She? Ella Balinska's Height is 5 feet 11 inches (180 cm).
High School. Balinska attended the Arts Educational School in London.
Track & Field. During high school, she participated in the javelin throw from 2009 – 2015. She recorded her personal best in the event in 2013.
https://www.instagram.com/p/BwC9zfhgwwv/
Acting. While Balinska initially started her career as a model, she quickly jumped into acting back in 2014. She has minor roles in films like Thanatos (2015), Tiers of the Tropics (2017), Room (2017), A Modern Tale (2017) and TV series Casualty (2018), Midsomer Murders (2018), Nyela's Dream.
She made her big breakthrough when was cast in 2019's remake of Charlie's Angels, which includes her co-stars Naomi Scott and Kristen Stewart.
The Ring She Would Always Wear. In an interview with Vogue, Ella explained the reason why she would wear a special ring she had on a daily basis. "I've religiously worn the ring my dad wore when he was engaged to my mum for as long as I could fit into it. They're not together anymore but they're still best friends and it's a nice way of having them together."
Her One Goal. Speaking with Vogue in 2018, Ella explained her one goal, which is ""My goal is to be able to inspire people. If I can make an ounce of difference, then I've done my job."
She is a Huge Jaden Smith Fan. When asked who she looks up to when it comes to style, Ella Balinska explained "Jaden Smith is one of my style icons. Fashion is all about breaking boundaries, self-expression and making a decision about who you are. He does androgynous very well."
She Really Loves Shoes. Balinksa is really into shoes and she explained why she loves them so much "I'm a shoe girl and base my whole look around them. I have the most from Givenchy, but my favourite are biker boots from Kurt Geiger."
Social Media. You can follow Ella Balinska on her social media accounts on Instagram, Facebook, and Twitter.