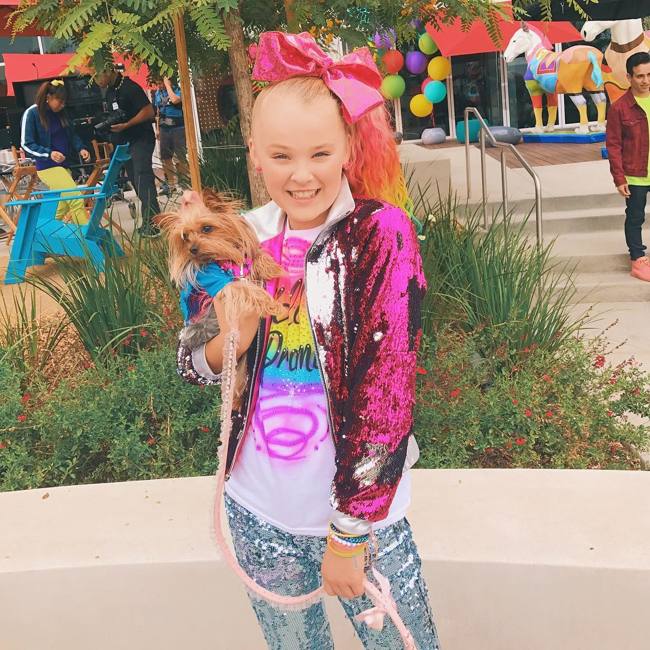 Teen star JoJo Siwa is an American singer, dancer and social media personality, famous for her hit singles Boomerang and Hold the Drama. Though she started out as a dancer, Jojo is becoming a huge social media celebrity, thanks to her YouTube channel, which has close to 3 million subscribers.
Want to learn more about JoJo Siwa, check out these interesting facts like her eye color, love interests, TV appearances and more.
Birthday
. JoJo Siwa's age is 19. Her birthday is May 19, 2003. Her Zodiac sign is Taurus.
Birthplace. Jojo  Siwa was born in Omaha, Nebraska, in the United States. She recently moved to Los Angeles, California for reasons linked to her career.
Siblings. The teen has one sibling – older brother Jayden Siwa,
Other Family Members. Her father Dr. Tom Siwa is a licensed Chiropractor, while her mother Jessalynn Siwa is a professional Dance Instructor. Jojo's maternal grandmother Kathy also lives with the family.
Ethnicity. She is white/Caucasian.
Real Name. Her full name is Joelle Joanie Siwa.
Nickname. People often call her JoJo with the Big Bow.
Bows. Jojo Siwa has over 700-800 bows! She really isn't sure of the number, but that number is pretty crazy.
How Tall is She? As a teen, Jojo Siwa's height is  5 ft 8½ inches tall. She also weighs approximately 119 pounds.
Eye Color. Jojo Siwa has green eyes.
Natural Hair Color. She has naturally dark brown hair, but, her mom has been dyeing her hair blonde for several years.
Distinctive Features. The teen is known for wearing huge brightly colored bows in her hair.
Books.
Siwa has released several children books, including coloring books.
Who has she dated? JoJo has reportedly dated singer and performer Matty B.
Education. She has been homeschooled due to her busy performance schedule which sees her performing all over the U.S and internationally.
Dance Career. The teen's interest in dancing started before her first birthday, largely due to the fact that her mom owned and operated a dance studio. JoJo first started learning hip hop and then moved to jazz and other dance forms.
She had her first solo dance performance when she was just two years old.
Talents. Along with her dancing and vocals, Siwa is also practicing piano.
Pets. She has a dog name Bow Bow.
TV Appearances. Jojo Siwa first appeared in the reality television series Dance Moms as a dancer, then in 2013, she appeared in Lifetime's dance reality competition series Abby's Ultimate Dance Competition as a contestant. She finished 5th in 10 episodes.
Fashion Stint. Siwa launched her first dancewear collection in 2014 with company Tilt Dancewear.
Music Career Success. Jojo Siwa released her first single "Boomerang" in 2016. The official video on YouTube gained more than 16 million views in just 2 weeks and was certified as "Gold".
Awards won. In 2017 she won the Nickelodeon Kids' Choice Award for Favorite Viral Music Artist and in 2018 she won the award for Favorite Musical YouTube Creator.
Social Media. You can follow JoJo Siwa on social media at Instagram, Facebook, Twitter, YouTube and via her official website: @ itsjojosiwa.com.