Deprecated
: The PSR-0 `Requests_...` class names in the Requests library are deprecated. Switch to the PSR-4 `WpOrg\Requests\...` class names at your earliest convenience. in
/home/jdeeze/thefactninja.com/wp-includes/class-requests.php
on line
24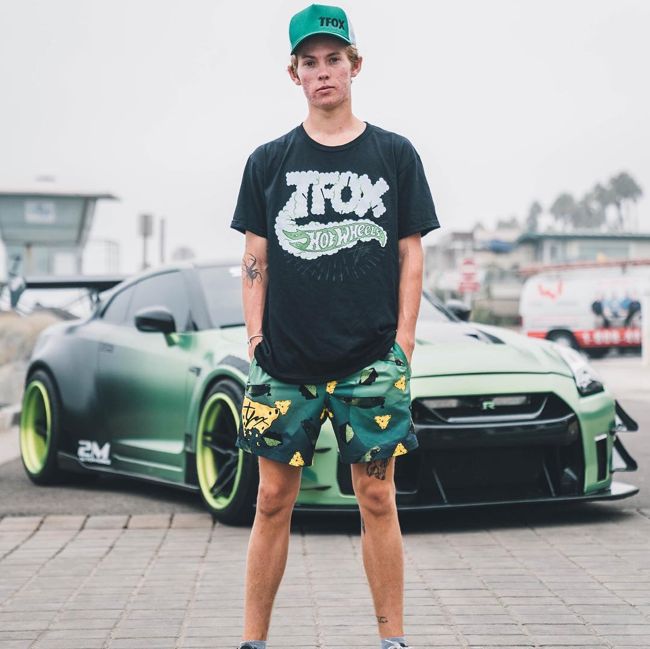 Tanner Fox is an American professional stunt scooter rider and Youtuber. He has a crazy following on social media, with millions of subscribers on Youtube and followers on Instagram.
Take a look at these 16 facts about Tanner Fox. Get a quick bio, see his birthday, age, who he is dating, his tattoos and more.
Birthday. Tanner Fox's age is [showcurrentage month="12″ day="2" year="1999″ template="1″]. His birthday is December 22, 1999. His Zodiac sign is Capricorn.
Birthplace. San Diego, California.
Parents. Fox's parents divorced when he was 10 years old.
Sibling. He has an older sister named Lindsay Fox. Lindsay is also an Instagram and Youtube star who has piggybacked on her brother's fame.
School. Tanner attended a private high school in San Diego called the Sacred Heart School. He only attended for a year, as we was expelled for shooting videos at school.
After completing his elementary school, Tanner joined a private school called Sacred Heart School in San Diego. He was only there for a year and a
How Tall is He? He is 5 feet 6 inches or 167.5 cm
How Did He Get Famous? Tanner Fox started to develop a following, once he started uploading videos of him doing scooter and hoverboard tricks to his YouTube channel when he was 12 years old, in 2011. He following quickly grew from there, where his videos have been getting millions of views.
Skateboard/Scooter. Tanner Fox started skateboarding when he was just 2 years old.
Taylor Alesia. Tanner has been dating, Instagram Star, Taylor Alesia since 2017. The two can be found coupled up on the Gram in photos, and they make appearances on each other's Youtube videos.
Acting. Tanner appeared on the TV show, Charmed in 2006. He played an uncredited role as baby Wyatt in the episode, Forever Charmed.
Favorite Scooter Trick. He loves doing the Flair
Favorite Scooter Rider. He is a big fan of scooter rider, Jordan Clark
Car Accident. Tanner Fox and his friends Maverick and Danny were involved in a near fatal car crash. The trio were driving in Maverick's, 240SX, when they lost control of the car and it flew off a cliff.
The three, while injured, were generally ok. Tanner broke his leg and a split his chin. He would later have surgery on his leg.
Dog. Tanner had a dog named Kirby Fox. Sadly, Kirby passed on July 20, 2018.
Clothing Brand. He has his own clothing brand and accessories. It is called TFox.
Tattoos. Tanner Fox has a bunch of tattoos. He did a Youtube video, explaining some of them.
Social Media. You can follow Tanner Fox on his different social media accounts on: Instagram, Twitter, YouTube, Facebook and Google+. Snapchat Name: @zdubzz