Deprecated
: The PSR-0 `Requests_...` class names in the Requests library are deprecated. Switch to the PSR-4 `WpOrg\Requests\...` class names at your earliest convenience. in
/home/jdeeze/thefactninja.com/wp-includes/class-requests.php
on line
24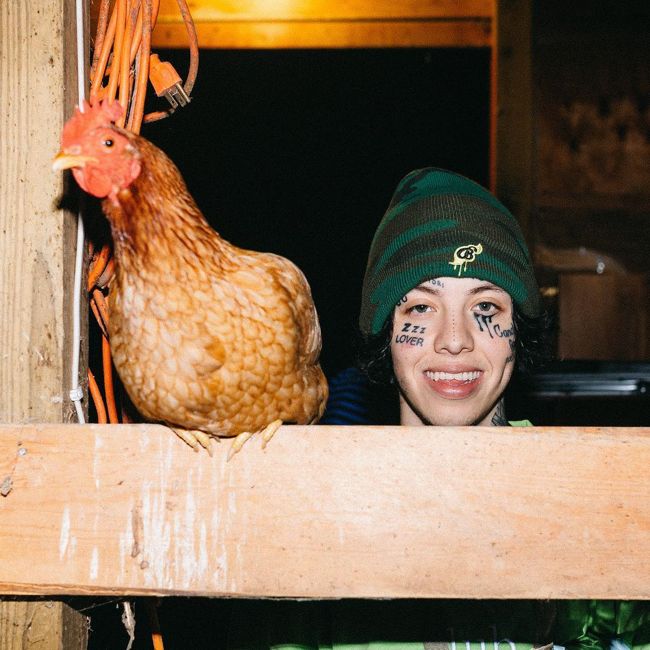 Lil Xan is an American rapper and vocalist who started his professional music career in 2017. The rapper recently released his first album and announced his first tour which started in February 2018. Xan has millions of fans on Instagram and more than 400,000 followers on SoundCloud which he used to launch his rap career.
Want to know more about this rapper? Take a look at these 21 facts about Lil Xan.
https://www.instagram.com/p/Boa243mH8Fk/?taken-by=xanxiety
Birthday. Lil xan's age is [showcurrentage month="09″ day="06" year="1996″ template="1″]. His birthday is September 06, 1996. His Zodiac sign is a Virgo
Birthplace. Lil Xan was born in the Golden State of California and grew up in the Redlands region of the state. The rapper now resides in Los Angeles.
Family. Xan's only known family members are his mother Candy and his uncle Robesman, who supported his music career in his early years. He has his mother's name tattooed on his body.
Ethnicity. The rapper is of Mexican descent but was born in the United States.
Lil Xan Real Name. The rapper's given name was Diego Leanos. While growing up, he was known to family and friends as Xan, which he later incorporated into his stage name.
Meaning of His Name? Early in his career, the rapper revealed that he had struggled with drug addiction and was trying to quit the habit. His stage name 'Xan' came from the prescription drug Xanax which was one of several drugs that the rapper was addicted to. Lil Xan name his album Xanarchy to symbolize his total rejection of drugs and his struggle to remain clean.
Education. Xan attended Redlands East Valley High School but dropped out before he got to his senior year.
How Tall is He? He is 5 ft 8 in (173 cm)…(See more on Lil Xan's Height here). He weighs in at 66 kg or 145.5 lbs.
Eye Color. The entertainer has distinctive blue eyes.
Distinctive Features. Lil Xan has shoulder length brown hair and dimpled cheeks. The rapper also has a lot of tattoos. The most prominent are the ones on his face – the words Xanarchy (his first album), Candy (his mother's name) and 1996 (the year of his birth).
Guilty Pleasures. Xan is an avid fan of Anime and a lover of fast food chain McDonald's.
Cheetos Overdose. In September 2018, Lil Xan was admitted to a hospital for eating too many Hot Cheetos.  He took to Instagram to explain how the fiery snacked caused him to head to the hospital. "I guess I ate too many Hot Cheetos and it ripped something in my stomach open, so I puked a little blood,"
Girlfriend. The rapper has been publicly linked to two females. The first was YouTuber Tana Mongeau and the second was Noah Cyrus who he began dating in February 2018, after she finally responded to a DM he sent her.
Before the Fame. Lil Xan was from a very poor background. He and his mother spent a lot of time staying in motels because they had nowhere to live. Xan started working at a very young age to help support his mother. One of his first jobs was as a street cleaner.
Photography Career. Before his music career took off, Diego tried his hand at photography. His camera was however stolen a short while after he started his pursuit. While saving up to buy a new one, he discovered his passion for music.
Breakout Single. Xan's most known single to date is probably his song Betrayed which peaked at no 64 on the Billboard Hot 100 chart.
His First Album. Following the success of his break out single, the rapper dropped his first and only studio album 'Xanarchy' in April 2018. The album featured acts such as Swae Lee,  and Diplo, Rae Sremmund, 2 Chainz, Yo Gotti and Rich the Kid.
Awards. Xan was nominated for two awards at the 2018 MTV Music Awards. The awards were in the category of Best Push (at the European Awards) and Best Push Artiste of the Year at the American Video Awards.
Tupac Controversy. In a Revolt TV interview, Xan was asked to rate rappers according to his taste. When 2Pac's name came up, the rapper gave him low score of 2. When asked why? Because of his "boring music."
Lil Xan gives 2pac a rating of 2 for "boring music." RT if you have… questions.

💨 Catch the full interview here: https://t.co/BjP7GBsYGm pic.twitter.com/oS2FGh8h3s

— REVOLT TV (@revolttv) February 16, 2018
There was immediate backlash from the Hip-Hop community, with rapper Waka Flocka stating that Xan was banned from Hip Hop.
LiL Xan banned from hip hop

— Waka Flocka (@WakaFlocka) March 7, 2018
Inspired By. The rapper has listed people such as Pharrell Williams, N.E.R.D, Arctic Monkeys, Cage the Elephant, Drake, and the now deceased Mac Miller among those who inspire him.
Social Media. You can follow Lil Xan on social media at Instagram, Facebook, Twitter, SoundCloud and via Snapchat: @ Xanxiety666