Deprecated
: The PSR-0 `Requests_...` class names in the Requests library are deprecated. Switch to the PSR-4 `WpOrg\Requests\...` class names at your earliest convenience. in
/home/jdeeze/thefactninja.com/wp-includes/class-requests.php
on line
24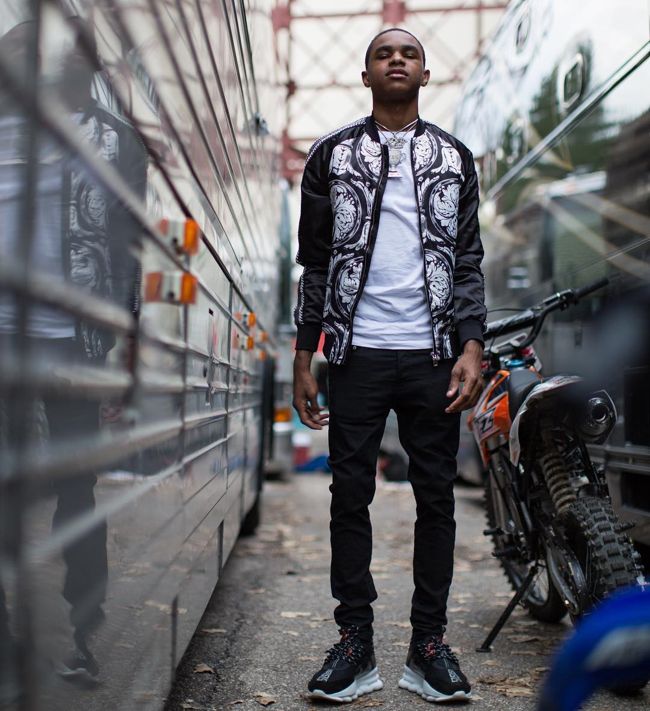 Unless you've been living under a rock for the past few months, then you've probably heard about YBN Almighty Jay. Unfortunately, the rapper's new-found fame is not due to the success of his music, instead it is because of his relationship with former stripper turned social media influencer 'Blac Chyna'. The relationship was the subject of heavy social media criticism due to the fact that Chyna is more than 10 years Jay's senior and the rapper had barely graduated high school.
But who is YBN Almighty Jay? The teen is an upcoming Hip Hop artiste and rapper who is a member of YBN Nahmir's Young Boss Niggas (YBN) group which features fellow artiste YBN Cordae and half a dozen more members.
To find out more about Almighty Jay, check out these 19 super interesting facts below.
https://www.instagram.com/p/BoK0_mohdvD/?taken-by=ybnalmightyjay
Birthday. YBN ALMIGHTY JAY's age is [showcurrentage month="08″ day="06" year="1999″ template="1″]. His birthday is August 6, 1999. His Zodiac sign is a Leo.
Birthplace. Almighty Jay was born in Galveston County, Texas, United States.
Family. Not much is known about the rapper's family. He does however have a brother that is featured on his social media pages from time to time.
Ethnicity. Jay identifies as African American or Black.
Real Name. The rapper's real name is Jay Bradley, hence the 'Jay' in his stage name.
Education. In 2018, Jay told Cosmopolitan that he had graduated from high shcool with a diploma.
Religion. While he grew up in a Christian household, the rapper is not particularly religious.
Body Stats. Almighty Jay is 5 ft. 8 inches tall and weighs approximately 145 pounds.
Eye Color. He has dark brown eyes.
Tattoo and Other Features. The rapper has a tattoo behind his ear that reads "Legend". In speaking with XXL, he explains why he got that particular tat. "I got 'legend' tattooed behind my ear, 'cause I know that's what I'm gonna be". "I want everyone to remember me for something in hip-hop. You know how you got your Lil Waynes, your Snoop Doggs, your Eminems and Dr. Dres. Legends, know what I'm saying? I wanna be remembered like that."
He also speaks with a lisp, although this is not audible in his music.
He Doesn't Wear Condoms. Speaking with  No Jumper in March, he explained why he doesn't wear condooms. "I don't wear condoms. . . I would not want to f–k a b***h I did not want to get pregnant," he told . "If Chyna got pregnant, I would keep that s–t like, 'ohh, daddy love you,' I love that ass.'"
Girlfriends. YBN Almighty was controversially linked to former stripper and risqué model Blac Chyna in the first half of 2018. It is alleged that the two began dating in February 2018, when Chyna was 30 and Jay was 18 years old. Many thought the relationship was just a hoax or a publicity stunt for Jay. The couple parted ways in September 2018.
Musical Inspiration. Jay grew up listening to Hip Hop and rap music, but was only inspired to start recording songs after his mother gifted him a YETI microphone one Christmas.
Wu Tang Controversy. Almighty Jay created a bit of controversy in 2018, when he admitted that he didn't know the legendary rap group, Wu Tang Clan. Answering a question as to whether they were Wu-Tang heads. Jay immediately shook his head, and said he "ain't go back that far," following that up with, "No disrespect, I don't know who that is."
Famous Friends. The rapper has quite a few famous friends. Apart from fellow YBN members such as Nahmir, the rapper has been linked with Lil Wayne, Rich the Kid, Sage the Gemini and Chris Brown.
Breakout Single. Jay's most known single to date is his song Chopsticks, which was released in 2017. The music video for the song earned more than 4 million views within a month of its release.
His First Album. The rapper is yet to release a full studio album but has collaborated on several mix tapes with the members of his YBN crew. His most recent mixtape 'Young Boss Niggas Vol. 1 was released in September 2018.
Tours. Jay is currently on his first overseas tour with fellow YBN members Almighty Nahmir and Cordae. The trio will hit up cities in France, Germany, Poland, Sweden and several more.
Social Media. You can follow Jay on social media at Instagram, Facebook, SoundCloud, YouTube and Twitter. Snapchat name, Jay isn't on that platform.