Deprecated
: The PSR-0 `Requests_...` class names in the Requests library are deprecated. Switch to the PSR-4 `WpOrg\Requests\...` class names at your earliest convenience. in
/home/jdeeze/thefactninja.com/wp-includes/class-requests.php
on line
24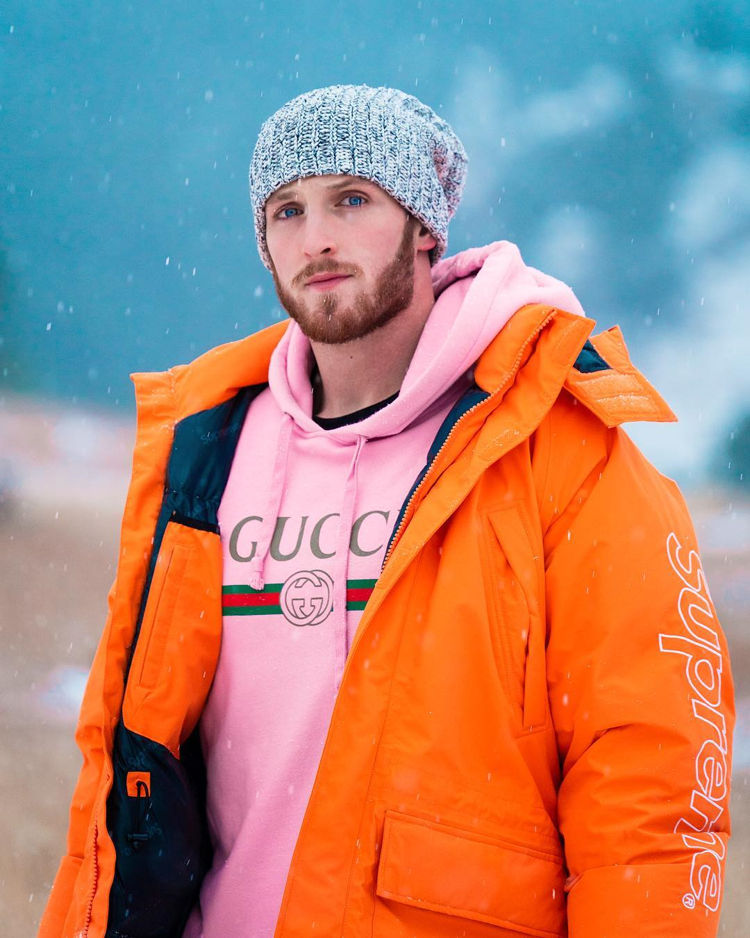 Logan Paul is a famous American Actor, Youtuber and social media personality with millions of followers on Instagram and YouTube. He is most known for his appearance in the film Rainbow Man and his guest appearance on Law and Order SVU.
To learn more about Logan, check out these amazing facts like his eye color, age, birthday, girlfriend and more. Really short biography on this popular Youtube star.
Birthday
. Logan Paul's age is [showcurrentage month="04″ day="01" year="1995″ template="1″]. His birthday is April 1, 1995. His Zodiac sign is an Aries.
Birthplace. Logan was born in Westlake, Ohio, United States, but recently moved to Los Angeles, California.
Siblings. He has one sibling who is also a famous social media personality- younger brother Jake Paul.
Family. Paul's parents are Greg Paul and Pam Stepnick.
Ethnicity. He is white American.
Real Name
. He was given the name Logan Alexander Paul at birth.
How Tall is Logan Paul? Logan is about 6 ft 2 inches and weighs in at 198.5 pounds.
Who has he dated? Since 2015, the actor has been linked with about 5 different females. In 2015, he dated actress and model, Jessica Serfaty for a brief period.
Later in 2016 he was rumored to be dating former Playboy model Amanda. In February 2017, he hooked up with YouTuber Alissa Violet before moving on to dating actress Chloe Bennet.
Logan was also said to be dating his assistant and Instagram model, Lydia Kenney in 2017.
Eye Color. He has distinctive green eyes.
Natural Hair Color. His natural hair color is blond.
Interests. As a child he was fascinated with photography and bought his first camera from money he saved from allowances and earned from mowing lawns.
Sports.  While in high school, Logan was a wrestler and even placed 5th in the state level wrestling tournament.
He also played football as a linebacker for the Westlake football team, and took his team to the playoffs. His stats as a high school linebacker – 92 tackles, ran 1,400 yards and made 18 touchdowns.
Fitness. Logan goes to the gym at least 6 times a week with Sunday being his day off. He prefers to work out in the evening.
His usual routine is to start with a 6-minute run, after which he focuses on individual body parts. Mondays are chest day, Tuesdays for back workout, arms on Wednesday, shoulders on Thursday and each Friday is leg day. On Saturdays, he focuses on cardio.
Diet. The actor maintains an ultra-strict diet, steering clear of dairy products, bread, and pasta. He drinks at least 2.5 gallons of water daily.
For breakfast he usually has a bowl of oatmeal with bananas, strawberries and topped with honey and almond butter, 3 scrambled eggs with avocado and occasional plate of spinach.
His lunch is his biggest meal of the day and comprises meat and complex carbs.
His dinner is generally his lightest meal of the day and consists of a piece of chicken, a bowl of oatmeal or protein bar.
Education. He graduated from the Westlake High School in Ohio in 2014 and was admitted to the Ohio University on a full academic scholarship to study engineering. He however dropped out in 2014 to focus on his social media career.
Tv/Film Appearances. The actor made his first film appearance in 2014 when he was featured in the short film Rainbow Man as Carl.
In 2015, he was featured in an episode of Law & Order: Special Victims Unit.
Later in 2017 he guest appeared in his first theatrical science feature film The Space Between Us.
Endorsement Deals. Logan has headlined promotional campaigns for about a dozen popular brands including Verizon, Hanes, Pepsi, Nike, Dunkin' Donuts and HBO.
Paul did a video for the Doritos' Crash the Super Bowl campaign, which was titled as Paranormal Snacktivity. It was the most viewed entry of more than 4,500 submissions in the contest.
Controversies.  In January 2018 he faced heavy criticism from the media and general public after he posted a YouTube video showing a dead man's body after returning from his trip to Aokigahara, a forest in Japan. It attracted a lot of negativity and he later issued an apology.
Social Media. You can follow Logan on social media at Instagram, Facebook, Twitter, YouTube and via his website: @ http://loganpaul.com/.