Deprecated
: The PSR-0 `Requests_...` class names in the Requests library are deprecated. Switch to the PSR-4 `WpOrg\Requests\...` class names at your earliest convenience. in
/home/jdeeze/thefactninja.com/wp-includes/class-requests.php
on line
24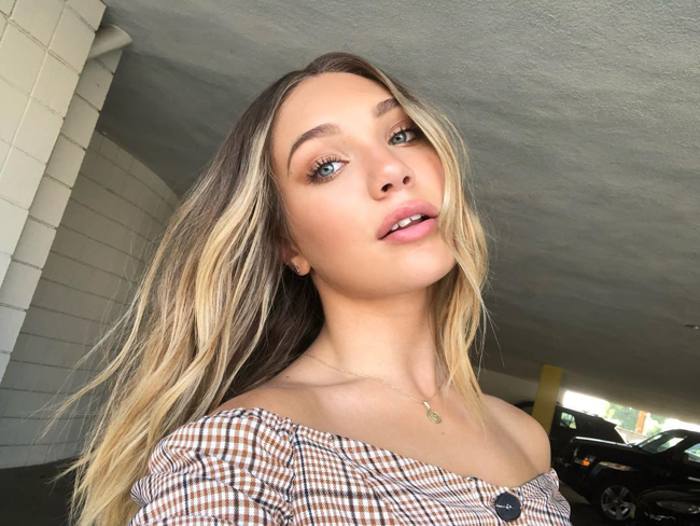 Maddie Ziegler is a teen dancer, model and actress from the United States. The teen is extremely popular for her starring roles in several of Australian singer Sia's hit singles including "Chandelier" and "Elastic Heart."
To learn more about leading lady Maddie Ziegler, check out these 22 cool facts like her shoe size, age, birthday, ethnicity, love interests and more.
Birthday. Maddie Ziergler's age is [showcurrentage month="09″ day="30" year="2002″ template="1″]. Her birthday is September 30, 2002. Her Zodiac sign is a Libra.
Birthplace. Maddie was born in Pittsburgh, Pennsylvania, in the United States.
Siblings. The teen has five siblings including younger sister Mackenzie Ziegler who is also a well-known Actress and Dancer. On her father's side she has older brothers Ryan Ziegler and Tyler Ziegler. Through her mother's remarriage, she has older siblings Mathew Gisoni and Michele Gisoni (her step siblings).
Parents. Her father is Kurt Ziegler and her mother is Melissa Ziegler-Gisoni. Her family also includes her stepfather Greg Gisoni.
Ethnicity. Ziegler is white with Italian, German and Polish ancestry.
Real Name. The dancer's full name is Madison Nicole Ziegler.
How Tall is Maddie Ziegler? Maddie is only sixteen and is likely still growing and changing. Her latest body stats, however, indicated that she was 5 ft 6 inches tall and weighed about 115 pounds.
Shoe Size. She wears a 7.5 shoe.
Who has she dated?  Maddie Ziegler has been linked to fellow dancer Gino Cosculluela; they are rumored to have dated in 2014.  In 2016 she was reportedly dating singer and internet personality Jacob Sartorius.
In 2017/18 Maddie started dating Australian Instagrammer, Jack Kelly. They shared many pictures on their respective social media accounts, before calling it quits allegedly over distance issues.
Eye Color. She has blue eyes.
Natural Hair Color.
Her natural hair color is dark brown.
Animals Owned. The teen is the proud owner of two pet dogs, named Maliboo and Molly.
Education. Maddie was a student at Sloan Elementary School in Murrysville, Pennsylvania until 2013. Since then she has been homeschooled due to her career obligations.
Before the Fame. She has been known by the public almost all her life. Maddie began dancing at two years old and was already famous by age 7.
Talents. She is an exceptional dancer who performs various dance forms like acro, ballet, tap, lyrical, jazz and aerial dance form. She is also a budding actress who recently secured her first leading role.
Associated Brands. Maddie has been featured in a Skechers commercial. The teen is also the spokesmodel for dance shoes and apparel manufacturer Capezio.
She has also been featured with her younger sister Mackenzie as the faces of Clean & Clear's fall back-to-school.
Fashion Interests. In 2014, she collaborated with her sister to launch their short-lived fashion line The Maddie & Mackenzie Collection.
As a child, Maddie did modeling for fashion brands like Sally Miller, Purple Pixies and Glitzy Girl.
TV Appearances.  Maddie Ziegler first appeared in the reality TV series, Dance Moms when she was just seven years old.
Film Appearances. Her first film appearance was in 2015 when she was given a role in a short dance film called Lucky Thirteen. In 2017, she acted in her first feature film The Book of Henry, where she played the starring role of Christina Sickleman.
Charitable Acts. In collaboration with her mother and sister, the teen has volunteered with the Starlight Children's Foundation, which works to support chronically ill youth and raise awareness about them.
In 2016 she also collaborated with Dancers Against Cancer and Love Your Melon to raise money and awareness for childhood cancers.
Awards. In 2014 she won the title of "Favorite Dancer 17 & Under" at the Dancers Choice Awards.
Social Media. You can follow Maddie Ziegler on social media at Instagram, Facebook, Twitter, YouTube and Snapchat: @maddieziegler