Deprecated
: The PSR-0 `Requests_...` class names in the Requests library are deprecated. Switch to the PSR-4 `WpOrg\Requests\...` class names at your earliest convenience. in
/home/jdeeze/thefactninja.com/wp-includes/class-requests.php
on line
24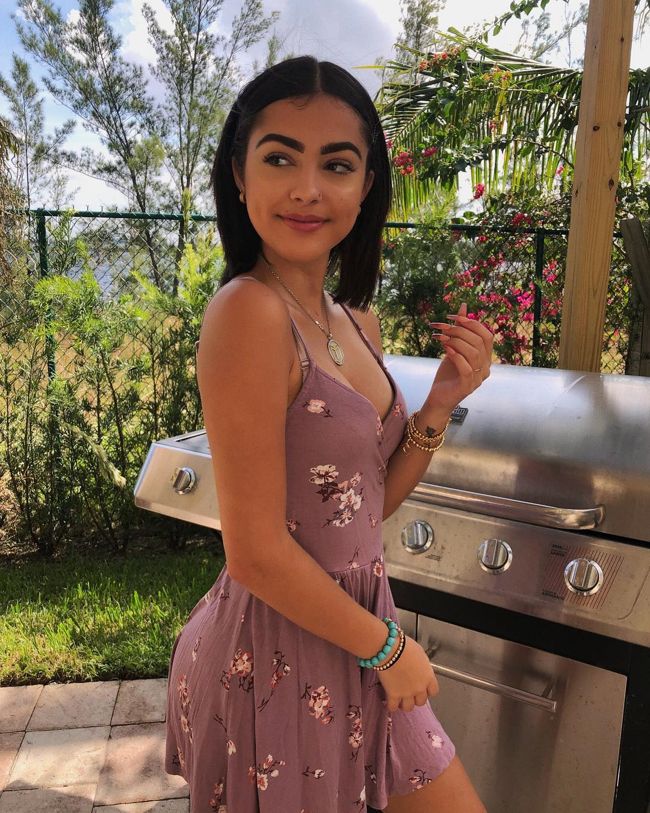 Malu Trevejo is a Cuban-American Latin music signer and social media star. She has an impressive following on social media, with millions of fans. She is also a multi-platinum recording artist, known for her hit single "Luna Llena".
Want to get to know her better? Take a look at these 17 facts about Malu Trevejo. Get a quick biography, see her age, birthday, parents, ethnicity and more.
Birthday
. Malu Trevejo's age is [showcurrentage month="10″ day="15" year="2002″ template="1″]. Her birthday is October 15, 2002. Her Zodiac sign is Libra.
Birthplace.  She was born in Havana, Cuba. She eventually moved to Madrid, Spain, where she lived for 11 years. She would eventually move to Florida, USA.
Real Name/Middle Name. María Luisa Trevejo. She often goes by the name, Malu.
Ethnicity. Malu Trevejo is mixed. Her father is Spanish, while her mother is Cuban.
Siblings. She has one sister, who she calls best friend.
Education. Malu Trevejo had to end up being homeschooled, simply because her music career had taken off and she also wanted to stay away from bullies. In an interview with People, she stated "I'm homeschooled because I cannot go to school. There are too many people coming up to me and asking dumb questions," she admits. "I can't be a normal teen, to be honest. If I want to sing, then I have to live this life."
How Tall is She?
She is. 5 feet 5 inches or 165 cm.
How Did She Get Famous? Malu got her start when she uploaded videos of her belly dancing on the Gram. Speaking with Vix, she stated "I started on Instagram, belly dancing like Shakira and people liked how I danced so I started getting a lot of followers,"
With the growth of her popularity on Instagram and Musical.ly, she was eventually signed to a record deal.
Boyfriend. Malu Trevejo dated American rapper, YoungBoy Never Broke Again back in 2017. The two would eventually break up, as Trevejo in Snapchat uploads, would state that YoungBoy had cheated on her multiple times.
Danielle Bregoli Beef. Danielle Bregoli  the "Cash Me Outside" girl had beef with Malu. Danielle was casually dating NBA YoungBoy before Malu and she was devastated when he got with Trevejo. On an Instagram live stream, both Danielle and Malu threatened to fight each other.
Bisexual. Malu announced that she was bisexual on Instagram She said "girls attract me more (bisexual)".
Her First Song. Her first single, Luna Llena peaked at number 27 on the Billboard Hot Latin Songs. It also has over 72 million views on Youtube.
Favorite Number. #2
Favorite Singer. Malu is a huge fan of Jennifer Lopez. Speaking with People, she said her dream would be to record a song with Jlo.
Musical Influences. When it comes to her influences, Malu has been quoted as saying "I'm into English music, hip-hop or rap,"
Tattoos. Malu Trevejo has a bunch of tats, however her biggest and most controversial one is right below her breasts. She got a surrealist design tattooed on the center of her chest in June 2018.
The tat wasn't without controversy, as while live streaming, the police were called as they thought an underaged Malu was getting tatted up. Everything was sorted out and she even took a picture with Cops
Social Media. You can follow Malu Trevejo on social media at Follow her on Instagram, Twitter, Facebook, and YouTube.