Deprecated
: The PSR-0 `Requests_...` class names in the Requests library are deprecated. Switch to the PSR-4 `WpOrg\Requests\...` class names at your earliest convenience. in
/home/jdeeze/thefactninja.com/wp-includes/class-requests.php
on line
24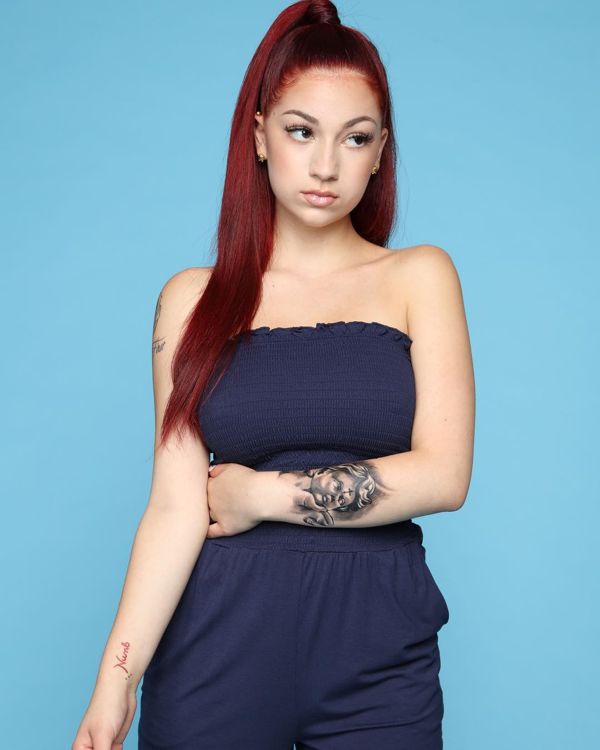 Danielle Bregoli aka Bhad Bhabie is an American social media star and rapper from Florida, United States. She shot to stardom as the "Cash Me Outside" girl from the Dr. Phil television show.
Want to learn more about her? Take a look at these 17 Danielle Bregoli facts. A quick biography, find out her age, birthday, parents, who she is dating and more.
Danielle Bregoli/Cash Me Outside Girl Facts
Birthday. Danielle Bregoli's age is [showcurrentage month="03″ day="26" year="2003″ template="1″]. Her birthday is March 26, 2003. Her Zodiac sign is Aries.
Birthplace
. She was born in Boynton Beach, Florida, United States.
Parents. Bregoli's parents Ira Peskowitz and Barbara Ann Bregoli, dated for a year before Barbara became pregnant. The two would breakup  when Danielle was an infant. She is estranged from her father, who is a deputy who works for the Palm Beach Police Department.
Full Name.  Danielle Marie Peskowitz
Nickname. Danielle is known as Bhad Bhabie, Cash Me Outside Girl, Slim Bhabie and Slim Thugga
Ethnicity. Danielle Bregoli is white. Her mother has Italian ancestry and her father has Ashkenazi Jewish ancestry.
How Tall is She? She is 5 feet 2 inches or 157 cm.
How She Got Famous? Danielle Bregoli became a Social media phenomenon after her appearance on Dr. Phil TV show episode "I Want To Give Up My Car-Stealing, Knife-Wielding, Twerking 13-Year-Old Daughter Who Tried To Frame Me For A Crime". They went on the show to discuss Bregoli's out of control behavior, which included stealing a crew member's car while they were filming the episode.
On the show, Bregoli became irritated at the audience who was laughing at her during the show. She eventually responded to them by saying, "Cash me ousside how bout dat". Those words sparked a flood of internet memes and she eventually became known as the "Cash Me Outside Girl"
First Song. Danielle Bregoli released her first song "These Heaux" in August 2017. The success of the song helped her to sign a multi-million dollar contract with Atlantic Records.
These Heaux reached #77 on the Billboard Hot 100 chart. With this, she became the youngest female rapper to debut on the Billboard chart.
Musical Influences. Speaking with Billboard, Danielle Bregoli explained that some of her musical influences are Keyshia Cole, Trina, T-Pain and Plies.
YoungBoy Never Broke Again. In 2017, it was rumored that Danielle was allegedly dating rapper, YoungBoy Never Broke Again. The two posted pictures together on their social media accounts, however, they were eventually deleted.
Malu Trevejo. Bregoli had beef with social media star and Latin pop singer, Malu Trevejo. It is alleged that NBA YoungBoy began dating Trevejo after Bregoli broke up with YB. The two would go on a livestream, where they spoke about fighting each other.
Child Abuse? In April, 2017 TMZ reported that Danielle's mum Barbara was being investigated by the police over a viral video from 2015. The video appears to show Bregoli's mother hitting her and calling  her a "b***h".
Danielle responded to the news reports stating that "Me and my mother are not fighting on the floor. We are play fighting."
Spirit Airlines Flight. In February 2017, Danielle and her mother were involved in a fight on Spirit Airlines with another passenger. Danielle explained that the passenger tried to put a hand on her mother. Because of that, Danielle punched her. The Cash Me Outside Girl and her mother were banned from Spirit Airlines for life.
Walmart Lawsuit. With the success of 'Catch Me Out', Bregoli threatened to file a lawsuit against Walmart. Her complaint was that they were using her popular catchphrase on t-shirts without her permission. In her letter, she had asked them to remove 15 clothing items from the shelves within 5 days.
Marijuana possession.  In April 2017, Danielle Bregoli and her friend were busted for the marijuana possession by police in Florida. She however made it clear that she wasn't in possession of the weed. The police issued the two teens with citations.
Grand Theft. In June 2017, Ms. Cash Me Outside pleaded guilty to multiple charges which include, filing a false police report, grand theft and possession of marijuana. For her guilty plea, she was given 5 years' probation.
Outside Bar Fight. In February 2017, Danielle Bregoli was involved in a fight outside a bar. She was walking by the bar with her friends, when the patrons of the bar started to tease her with the 'Cash Me Outside' phrase. At first Danielle played along with them, but quickly became incensed and one of her friends attacked a lady. The teens were then chased down the street by the angry crowd.
Not Fame Hungry. In May 2018, she told Complex how she felt about fame, "Don't get me wrong, I'm grateful for everything, but I don't wanna make it seem like I wouldn't be able to survive without fame. 'Cause I did it for 13 years."
Mother's Mortgage. Danielle Bregoli paid off her mother's mortgage as a Christmas gift in 2017. She gave her mom, Barbara, a $65,000 check from the money she earned for her new found fame.
Tattoos. Her first tattoo was the word "Loyalty". She got the tattoo when she was 12 years old. According to Stealherstyle.com, they state that Danielle has 16 known tattoos.
Piercings. She has pierced her tongue.
Social Media. You can follow Danielle Bregoli on her various social media accounts on Facebook, Twitter, Instagram, and YouTube. Her Snapchat Name is @realbhadbhabie