Deprecated
: The PSR-0 `Requests_...` class names in the Requests library are deprecated. Switch to the PSR-4 `WpOrg\Requests\...` class names at your earliest convenience. in
/home/jdeeze/thefactninja.com/wp-includes/class-requests.php
on line
24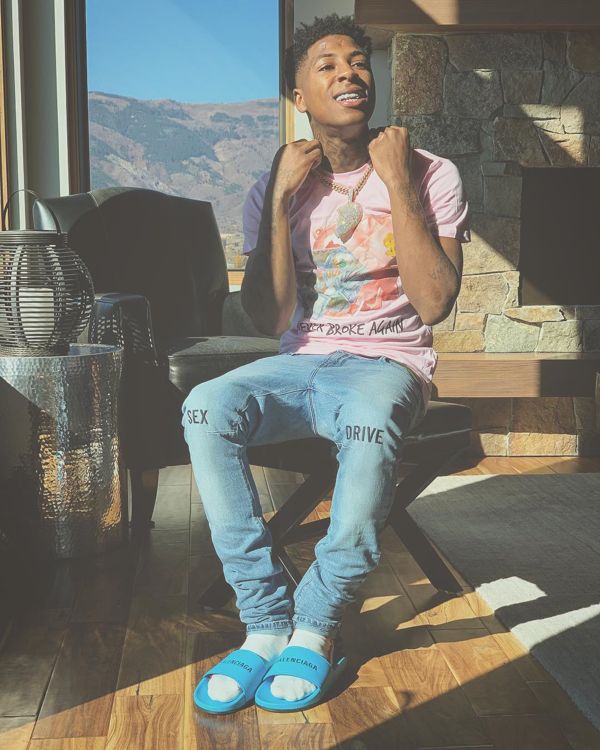 Best known for his single 'Outside Today', NBA YoungBoy or YoungBoy Never Broke Again, is an upcoming rapper and song writer from Louisiana. The rapper is one of many young artistes that found their footing through the music sharing app SoundCloud.
In just two years, YB has built up a strong following on various social media platforms such as Instagram on which he has more than 3 million followers and YouTube where he has more than 1.5 million subscribers. With a fast-rising net worth last estimated at 1 million dollars, YoungBoy is making his mark on the music industry.
To find out more about YoungBoy NBA, check out these interesting facts about the rapper. Get a quick biography, learn his age, birthday, girlfriends and more.
https://www.instagram.com/p/BpS3eUJHvTE/?taken-by=nba_youngboy
Birthday. NBA YoungBoy's age is [showcurrentage month="10″ day="20" year="1999″ template="1″]. His birthday is October 20, 1999. His Zodiac sign is a Libra.
Birthplace. NBA YoungBoy was born and raised in Baton Rouge, Louisiana, in the United States. He recently moved to New Orleans to distance himself from the festering crime scene in his hometown.
Family. YoungBoy Never Broke Again was raised by his mother and grandmother as his father is serving a 55 years jail sentence. The rapper has a younger brother named Ken.
Children. The teen is said to have fathered at least 4 children with three different women. The children are reportedly named Kayden, Kamron, Taylin and Kamiri.
Ethnicity. He is of African American descent.
Real Name. His given name is Kentrell DeSean Gaulden.
Growing Pains. The rapper broke his neck while playing as a toddler, and had to wear a head brace until his spine healed. The brace left scars on his forehead, which are still visible.
Education. He dropped out of high school in the 9th grade to focus on his rap career, but announced in October 2017 that he had re-enrolled at the Scotlandville Magnet High School in his hometown to resume his education.
https://www.instagram.com/p/BouDqNwnivZ/?taken-by=nba_youngboy
How Tall is He? He is about 5 ft. 9 inches tall and weighs around 148 pounds.
Eye Color. The rapper has dark brown eyes.
Distinctive Features. YoungBoy Never Broke Again has three visible scars across his forehead from wearing a head brace to fix a spinal injury he had sustained as a child.
Girlfriends. The rapper has been linked to several women in the past two years. The most notable being Starr Dejanee who is reported to be his baby mother, internet celebrity Malu Trevejo, and current girlfriend Jania who is pregnant with what is believed to be the rapper's fifth child. YB has also been linked to 15-year-old rapper Danielle Bregoli.
Famous Friends. YoungBoy Never Broke Again was friends with murdered rapper NBA Boosie. Following Boosie's death, it was reported that he tried to avenge his death by opening fire on a group of people on a South Baton Rouge street. He was later charged with attempted murder. At his trial, a judge told the rapper that the only thing standing between him and a life sentence was 'poor aim'.
Before the Fame. YoungBoy Never Broke Again began making music at just 14 years old when he bought a cheap microphone from his local Walmart. He released his first mixtape, 'Life Before Fame' in 2015.
Breakout Single. YB is most known for his single Untouchable, which peaked at no 39 on the Billboard Hip Hop charts. The official music video of the single has gained more than 100 million views on YouTube.
https://www.instagram.com/p/BnwleYWnoAW/?taken-by=nba_youngboy
His First Album. YoungBoy Never Broke Again released his debut studio album Until Death Call My Name in April 2018. The album featured established acts such as Future, Birdman and Offset (from the group Migos).
Famous Collabs. In the short time that he's been on the music scene, the rapper has collaborated with industry leaders like 21 Savage, Yo Gotti, Meek Mill, and Young Thug.
Legal Troubles. YB has had a lot of run ins with the law. Shortly after the rapper found fame in 2015, he was arrested for robbery and spent 6 months in a juvenile detention center. Months after his release, he was charged with 2 counts of attempted murder and had to spend 6 months in prison awaiting his trial. He eventually pleaded guilty to aggravated assault and was handed a 10-year suspended prison sentence and 3 years of probation.
Social Media. You can follow NBA YoungBoy on social media at Instagram, SoundCloud, Facebook, YouTube and Twitter.