Deprecated
: The PSR-0 `Requests_...` class names in the Requests library are deprecated. Switch to the PSR-4 `WpOrg\Requests\...` class names at your earliest convenience. in
/home/jdeeze/thefactninja.com/wp-includes/class-requests.php
on line
24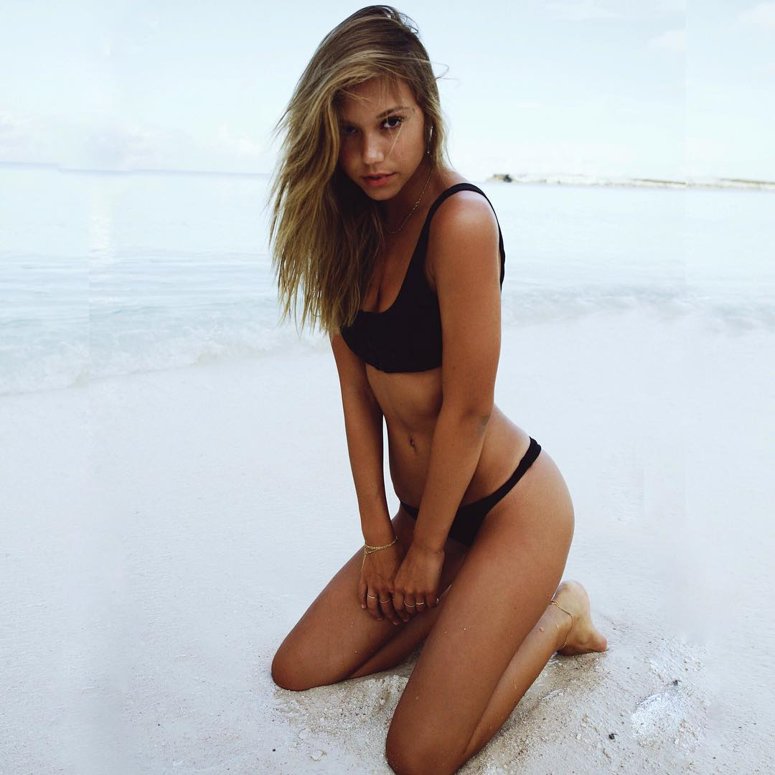 Alexis Ren is one of the most popular internet-famous models on social media. With her beautiful model look and killer body, it is easy to see why Ren has millions of followers and is one of the most popular people on Instagram.
Want to get to know her? Take a look at these 27 amazing Alexis Ren facts….some of which are quite interesting.
1. She Grew Up in Los Angeles. Alexis Ren was born in Santa Monica, CA and she currently lives in Los Angeles, California.
2. Her Birthday.
Alex Ren's birthday is November 23, 1996. She shares birthday with Miley Cyrus. Her zodiac sign is Sagittarius, which means she is extremely energetic and curious. She has an open mind and is willing to seek out the meaning of life by travelling across the world.
3. Her Last & Middle Name.  Alexis René Glabach is her full name.
4. Family. Alexis is of Russian and German descent. Her mother was a health nutritionist and her father is a lawyer. Alexis is the middle child of 5 kids. She has 2 older sisters, 1 younger sister and a little brother (Amber, Devin, Alisa, and Ace)
5. Her Mom Passed Away. On Mother's Day 2013, Alexis' mom was diagnosed with Stage 4 rectal cancer. Her mother passed away a year later on January 8, 2014.
Woke up missing my beautiful mom…I know you're out there. I miss you. pic.twitter.com/EJ22z15YN4

— Alexis Ren (@AlexisRenG) July 16, 2014
6. Measurements. Alexis got a pretty sick body and her measurements are an impossible 34-22-34. Her height is 5′ 8.5″and she wears size 8.5 shoes.
A lot of people often say that her photos are Photoshopped and Alexis has stated "I hate when people say I Photoshop myself … I do work this hard, and I have this body."
7. She Started Modelling at 13. Alexis Ren first started modeling at the age of 13 for Brandy Melville. She eventually signed with Nous Model management at the age of 14. Shortly after signing, she booked for an ad for Seventeen Magazine.
8. She Became Internet Famous at 16. Alexis became super famous on Tumblr after she did a photo shoot with Lucas Passmore. She was only 16 years old at the time. After that shoot, she appeared in C-heads magazine, Next Door Model Magazine, a swim campaign for Hurley, a Penta Water campaign and many more.
9. Alexis Ren and Jay Alvarrez
.  Between 2014 and 2016, Alexis Ren had been dating social media influencer and model,
Jay Alvarezz
. The pair were known as the original 'relationship goals' couple, as they would often post picture-perfect snaps with them cuddling or kissing in exotic locales.
The two went through a messy breakup in 2017, with Alexis going on a rant on her Twitter. In her rant, she alluded to her relationship and why it fell apart. In one specific tweet, she wrote "He's got a small dick too.", a clear shot at Jay Alvarrez.
Jay was not too pleased and posted a tweet, which many believe was targeted to Alexis:
Body Shaming is never cool in any gender or situation.. Making someone feel bad about how they naturally are is only showing your weakness

— Jay Alvarrez (@jayalvarrez) February 23, 2017
10. Eating Disorder. In an interview with Cosmopolitan.com, Alexis Ren revealed that for several years, she suffered from an eating disorder.
"I kind of was just like, 'I'm just going to be upfront with everyone,'" she said in the interview. "I have nothing to hide."
She explained that the eating issue started after her mother's death as it was compounded with her entrance into the world of modelling. With her body under a constant microscope, she often felt like she did not have control of her life.
As Alexis' popularity grew, so did the control her eating disorder had over her life. She had a lot of self doubt. "I was my worst critic ever," she said. "The only sense of relief I had was to be able to monitor my eating and my workouts. It was a vicious cycle where when I did eat, I just felt worse, so I didn't want to eat, and ate less and less and less. I was scared of food."
Today, Alexis Ren got the help she needed and today she has a healthy weight and she is speaking out to help other women.
11. Ballet was a big part of her life. Alexis did ballet for 10 years and she showed off her skills in a video that was posted a couple of years ago.  Rapper ASAP Rocky was pretty impressed with what he saw. so much so, he commented "Wow".
12. Tattoos. Alexis Ren currently has 4 tattoos.
She has a tiny black spade behind her left ear.
She has her mom's birthday on her right elbow. 3.62, her mother's birthday, is done in Roman numerals, V.III.LXII.
She has the day her mom passed away on her left elbow. 8.14, the day she died, is done in Roman numerals, I.VIII.XIV.
There is also a signature of her mother, on her left forearm.
13. Her Diet. Alexis Ren has an amazing body which is the perfect combination of genetics, working out and eating a healthy diet. She has stated in a Q & A session that her diet consists of no bread, no fast food, no red meat, and I try to stay off sugar (besides from fruit). She stays away from alcohol and aside from that, everything that she eats is organic and raw good food.

14. She Loves Working Out. Aside from eating healthy, Alexis loves to workout. In an interview she stated that:
"I try and hit the gym every day; Doing a lot of cardio Treadmill, stairs..etc) I also go on the floor and do as many sit ups as I can (A bunch of different ab workouts, too). I do Yoga and Pilates. I trained as a Ballet dancer for 10 years."
15. She's Done a Bunch of Commercials. Because Alexis and Jay were know as the 'relationship goals' couple, advertisers were lining up to have them push their products. In 2016, the pair did a commercial for Snapchat, as well as a couple for Express, Calvin Klein and the Hyundai Tucson.
16. Her Favorite Ice cream Flavor? Alexis Ren indicated on Twitter that she loves vanilla ice cream, in her own words it is "Classic"
17. She does not drink. On her blog, Alexis explains why she doesn't drink. "rarely EVER. I think it's pretty bad for you…whatever the statistics are. haha:)"
18. Her Booty Went Viral. Growing up in Southern California, it shouldn't be surprising that Ren can ride skateboard. In early 2017, she set tongues wagging when she not only showcased her skating skills, but she showed her perfect booty while doing so.
19. She Tans Daily. Speaking with The Cut, Alexis Ren explains why she has to tan so much. "I have to get at least 20 minutes of sun every day. An hour is the best because it's good for you. You need it. I need it to have that little spark … I think of the sun as my battery, my charger. So if I don't get sun for a long time, I feel very honestly drained."

20. She's a Huge fan of Gigi Hadid. In an interview with The Cut, Alexis Ren explained her love for super model, Gigi Hadid.
"I look up to Gigi Hadid. I love where she's taken herself, I love what brands she's working on. I respect her because I understand … I mean, girls like her open the doors for girls like me. So all I can do is thank her
21. Her Mail Goal in Life. Ren tweeted that her single goal in life is to just be happy J
My main goal in life is to be happy. Genuinely, intensely happy, & consistently happy. Regardless of what that looks like to others

— Alexis Ren (@AlexisRenG) December 20, 2016
22. Her Favorite Music. She loves Rock & Roll.
23. Social Media. Alexis Ren has millions of followers across different social media accounts. While she is most popular on Instagram, she is active on Snapchat, Twitter and Facebook.
You can connect with her at:
Instagram – @alexisren
Twitter – @alexisreng
Snapchat – Alexisreneg
Facebook – alexisrenofficial
Tumblr – @alexisren
24. She was in the Chainsmokers video. If you take a look at the Chainsmokers lyric video for Paris, you can see Alexis doing what she does best.
25. She Does Not Believe in Selling Out. She explained in an interview that "My biggest thing is that I never want to sell out. Or be a sellout."
26. She Busts Guns. On her IG, Alexis posted a video of her at the shooting range, in a nice sexy crop top while unloading a handgun.
27. Why She Travels So Much? "I have to have sun. That's why I travel so much … My life goal right now is to have in my wardrobe a bikini and a fur coat and nothing in between"