Deprecated
: The PSR-0 `Requests_...` class names in the Requests library are deprecated. Switch to the PSR-4 `WpOrg\Requests\...` class names at your earliest convenience. in
/home/jdeeze/thefactninja.com/wp-includes/class-requests.php
on line
24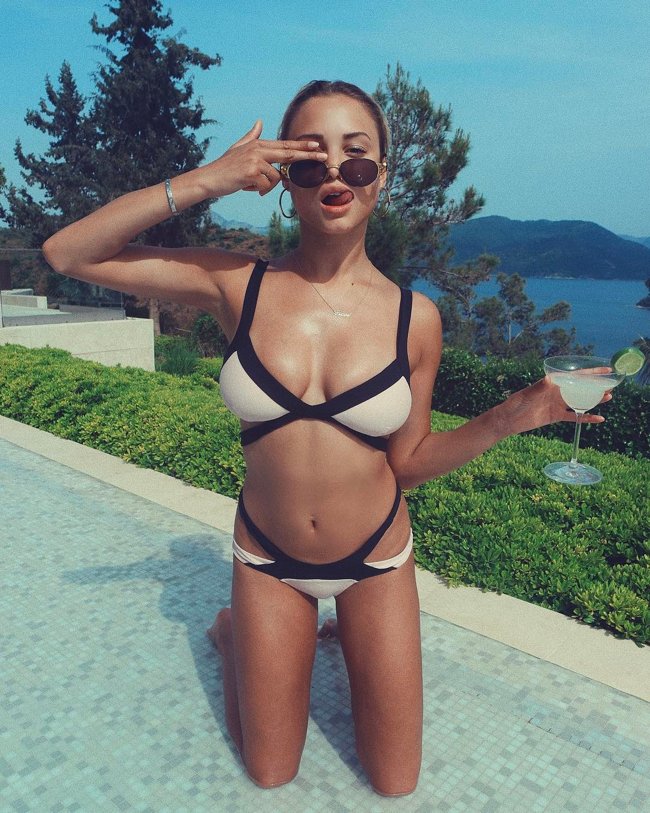 Rose Bertram is a Belgian model who is taking the world by storm. This mixed beauty has not only started to make a mark in the modeling world with shoots for Sports Illustrated, by she has millions of followers on the popular social media photo sharing app, Instagram.
If you are a fan or just wanted a quick bio or to learn more, take a look at these 21 facts about Rose Bertram.
Birthday.  October 26th, 1994.
Full Name. Stephanie Rose Bertram, or Stephanie Bertram-Rose.
Where she was Born? Rose is from Belgium. She was born in Kortrijk and when she turned 11, she moved to Deinze.
Family. Rose's father is Belgian and her mother is Portuguese, Angolan, and Senegalese.
Modeling. When Rose was 13, her mother signed her up with a modeling agency. She was cast at the age of 16 by the Dominique agency at the age of 16 and she started to garner attention after a photo-shoot with Juergen Teller for Jambox. She eventually moved to the United States when she turned 18 and signed with Marilyn.
Her Short Stature & Modeling. While she modeled in Belgium, she was always told that she was too short (Rose is 5' 7").  In an interview with Vogue, Bertram stated that "I remember when I started people always told me that it would never work out. They told me that I'd never get to do big jobs because I wasn't tall enough, didn't have a very skinny high-fashion body type.  She further stated that "you can tell that fashion is changing, now it's all about who you are."
Sports Illustrated. Rose Bertram has appeared in the Sports Illustrated Swimsuit edition 3 times. Her favorite shoot was the one she did in St John, in 2015.
Measurements. Rose's measurements are height 5'7", waist 26″, bust 33″ and hips 36″. She wears size 7 shoes.
Her Eye Color. Green.
Boyfriend. Rose Bertram is currently dating Dutch footballer Gregory van der Wiel. She met him when she was 17. The pair lived in Paris where van der Wiel used to play professionally. After his transfer to Turkish club Fenerbahçe in 2016, they couple moved to Istanbul.
Living in Istanbul. Rose admitted she was skeptical about living in Instanbul. "Before I got here I wasn't sure—I thought it might be weird because I had my own vision about it but when we got to the city it's so big and cool. There are so many shops, cinemas, restaurants. I have everything here right in our building so I always have something to do. It reminds me of the States a bit because everything is very new and modern."
Rose & Khloe Kardashian. Rose, Khloe and model Leomie Anderson all posed topless for a Good American jean ad campaign. The trio had nothing on but blue denim.
Favorite Music? She Loves Hip Hop and R&B.
She Loves 2Pac. Speaking with Oyster Mag, Rose admitted that she loves Tupac. "I love that guy so much. He put my imagination and my feelings into words. He was real. He didn't give f@#k and I like that. He was the real deal. She went on to say that her favorite songs by Pac are 'Ambitionz Az A Ridah', and 'Lil Homies'.
She Has Hollywood in her Sights. Rose has others goals outside of modelling. She is currently acting and doing auditions in front of casting directors. She has stated that "I would love to play a role onscreen. I recently started acting and I'm doing self-tapes. A couple of months ago I went to Los Angeles and did a lot of auditions in front of casting directors. Now whenever there is a big role they send the script and I do a self-tape and send it back to them, so I'd love to be in a movie eventually. Fingers crossed!"
She was a Tomboy Growing Up. Rose admitted that when she was growing up, she was extremely 'boyish'. She used to play soccer and always hang around the guys. She surprised her boyfriend is a soccer player once. Speaking with Oyster Mag about her boyfriend, "we recently went on vacation and played football together. He was so shocked that I was so good! I was like, "You don't know I used to be a boy before?" [Laughs]
Guilty Pleasure. Rose has admitted her food guilty pleasures "I love cheesecake when I'm eating out. Whenever I'm home I make homemade popcorn with agave syrup and salt, it's so yummy and better than the ones from the store! I also love Haagen Dazs ice cream or chocolate fondant."
What She Likes to Drink? She loves wine, but she will also sip Tequila, as it gets the party started quickly, "it works faster and it's less calories."
Social Media. You can connect with Rose Bertram across different social media accounts. Her most popular are:
Instagram: @rose_bertram
Twitter: @rosebertram
Snapchat: SteBertramRose
Most Embarrassing Moment. She was doing a shoot for Sports Illustrated and she was lying down topless, using her hands to cover her chest. She suddenly felt something on her leg and she got up and ran, forgetting that she did not have anything on.
She is Very Bossy. One thing Rose Bertram is sure of, is that she is extremely bossy . Growing up, she always wanted the last word, even with her teachers.