Deprecated
: The PSR-0 `Requests_...` class names in the Request library are deprecated. Switch to the PSR-4 `WpOrg\Requests\...` class names at your earliest convenience. in
/home/jdeeze/thefactninja.com/wp-includes/class-requests.php
on line
24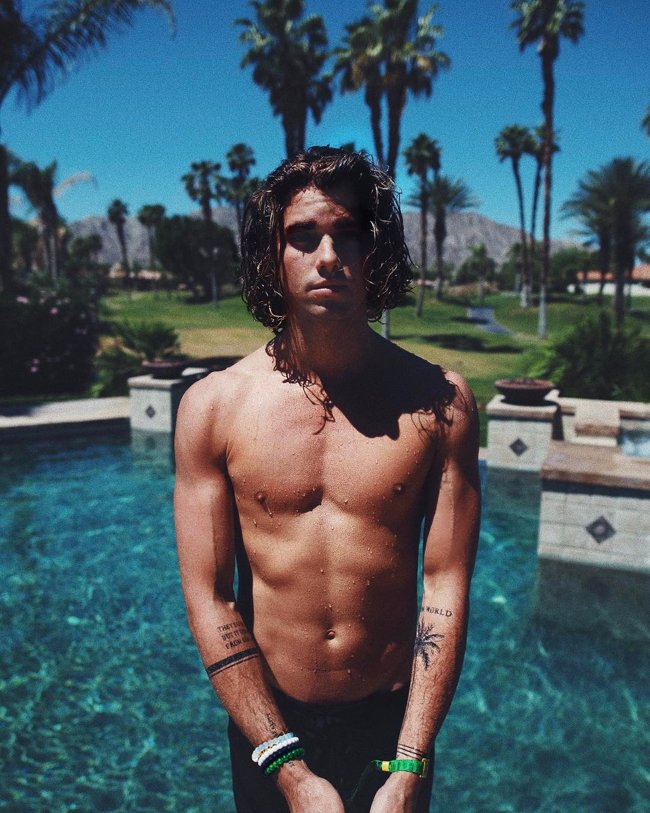 Jay Alvarrez is a famous instagram celebrity, model, music producer and extreme sport lover. He gained notoriety and millions of followers by sharing his experience in sports and travelling through his Tumblr, Instagram, as well as videos on Youtube and Vine.
If you want a quick bio or just want to know more, then take a look at these 14 facts about Jay Alvarrez.
1. Birthday. July 5, 1995. His birth sign is Cancer.
2. Birthplace. Oahu, Hawaii
3. Mother's death. Jay was 16 years old when his mother died in 2011
4. How Tall? Jay Alvarrez's height is 6' 0""
https://www.instagram.com/p/73ikt7Mm8F/
5. Tattoo. He has a tattoo that says 'Let's Live' on his inside bottom lip. He got the tattoo when he was 14.
6. Rise to Fame. Jay made a name for himself through his photography and videos. He would document his travels and extreme sport adventures and post them on Instagram, Vine and Youtube.
7. Jay Alvarrez and Alexis Ren. Jay and Alexis were known as the 'relationship goal' couple and they embodied what many thought was the perfect internet life. The two dated from 2014 to 2016 and during that time, a lot of people wanted to be them. They were envious of the perfect life they lived, always on an exotic beach, doing something fun and just living life to the fullest.
Surprisingly he is single. He just broke up with a fellow Instagram star slash model Alexis Ren. She was indeed his muse for these past years as he snapped a lot of photos and videos of her during their sweet relationship. And yet, people (or probablly their fans) are still calling them as a relationship goal despite their split. Sobs.
8. Alexis Ren Beef. While Alexis and Jay broke up in 2016, they had a major public falling out in the early part of 2017.
Alexis Ren went on a Twitter rant, which alluded to the breakup of her and Jay's relationship. During her rant, she alluded to the fact that Jay ".. got a small dick too."
Jay quickly took to Twitter to counteract Ren's claim:
I got 99 Problems & this ain't one babi 😂😘 #BeTheBiggerPerson 😜 pic.twitter.com/bDpK7IxC5V

— Jay Alvarrez (@jayalvarrez) February 22, 2017
Still peeved,  posted a tweet, which many believe was targeted to Alexis:
Body Shaming is never cool in any gender or situation.. Making someone feel bad about how they naturally are is only showing your weakness

— Jay Alvarrez (@jayalvarrez) February 23, 2017
9. Modelling.  Jay has a couple of modelling jobs under his belt. He did an ad campaign for Armani Exchange, as well as one for Ralph Lauren's Ralph Love Fragrance.
10. Music. Aside from extreme sports, photography and modelling, Jay Alvarrez is also a music producer. He loves house music and worked on a project withfor Kygo's new song titled Carry Me and the video was taken in Ibiza during Jay's summer vacay.
He also has a SoundCloud page, but nothing is up on it.
11. Commercials. for Snapchat, as well as a couple for Express, Calvin Klein and the Hyundai Tucson.
12. Dyslexic? In a tweet, Jay Alvarrez revealed that he suffers from Dyslexia and ADHD.
13. His Most Popular Video on Youtube. Jay's most popular video on Youtube is one that also features his ex-girlfriend, Alexis Ren.
14.. Social Media. Jay has millions of followers across different social media accounts. You can give him a follow at:
Instagram – @jaylavarrez
Twitter – @jayalvarrez
Snapchat – @jayalvarrez