Deprecated
: The PSR-0 `Requests_...` class names in the Requests library are deprecated. Switch to the PSR-4 `WpOrg\Requests\...` class names at your earliest convenience. in
/home/jdeeze/thefactninja.com/wp-includes/class-requests.php
on line
24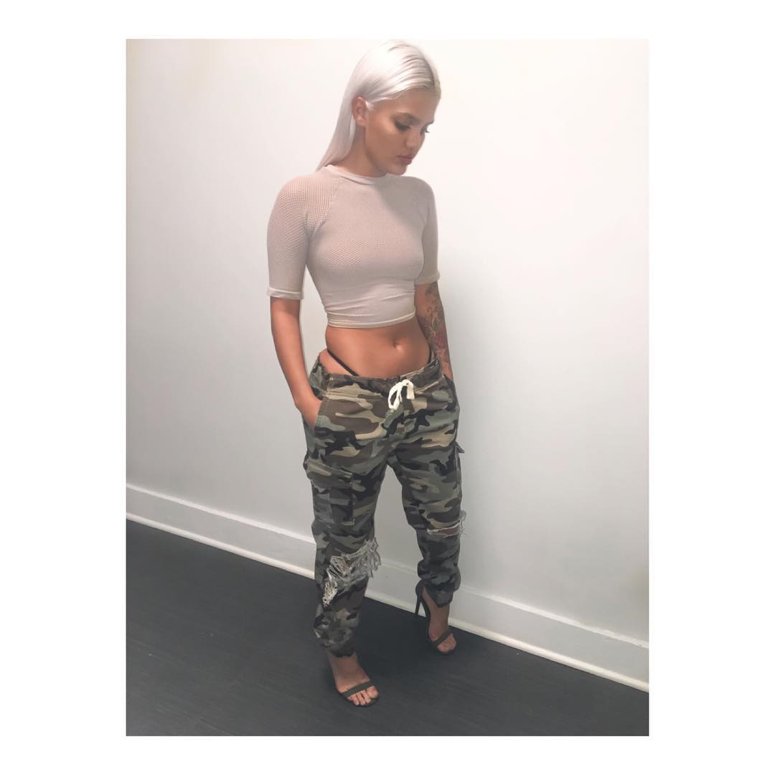 Amina Blue is an urban model who has taken the world of high fashion by storm. She is known for being Kanye West's muse and walking the 2015 line of Yeezy Season 1, which took place during New York Fashion Week.
As a model she has stood out due to her small stature, tattoos and unique physical look.
If you want to get a short bio or learn more, take a look at these facts about Amina Blue, some I am sure you do not know.
https://www.instagram.com/p/BF9t69CzPAM/
Her birthday. Amina Blue's birthday is April 2 and her sign is Aries.
Her ethnicity. Amina's ethnic background is Pakistani (Father) and German (Mother).
Her measurements. Blue's height is 5' 1", weight 103 pounds, eyes: Blue, Measurements: 32-18-34
https://www.instagram.com/p/BDMoC7NzPGB/
Where she grew up/lives. She grew up in Queens, New York and currently lives in Brooklyn.
She's vegan. Amina Blue is a vegan and she believes that "no animal deserves to die for a meal". She is an activist for protecting animals and she has spoken out on her Instagram and other medium. She feels that everyone should become vegan, or understand the meat industry and the cruelty that animals endure.
Her last name isn't blue. It isn't surprising to a lot of people that Amina's last name is not really blue. While her surname has been kept a secret, the blue refers to the color of her eyes.
https://www.instagram.com/p/BUVq24mjQm5
How she got into modelling. In an interview with CR Fashion Book, Blue explained how she got into modelling. "I started with doing some urban modeling. I was cast in a few music videos. I started there because of my body shape and all my tattoos; I didn't think it was possible for me to do any other type of modeling because of that."
Her tattoos. Amina loves tattoos and you can be sure she will be getting more in the future. There's a large mermaid tattoo on her leg, a tribute to her late brother on her rib cage as well as an eye on her chest. In an interview with Inked Mag, Amina explains that the Eye of Horus tattoo on her chest is meaningful because it's a way to fight anyone who gives her "the evil eye" and bad spirits. "I definitely think it's something that enhances my look."
Tyga Controversy. Amina Blue was the leading lady in Tyga's "1 of 1" video which was shot in Jamaica.  This created controvery on the internet, as people quickly pointed out that Tyga, who is half-Jamaican, chose to use Amina Blue, instead of Jamaican girls. What's more, Amina is sporting Bantu knots, an African hairstyle often seen on black women with natural hair.
tyga went all the way to jamaica for a music video that featured a white girl with bantu knots… he gotta go

— eb n flow (@eb0nitapplebum) July 1, 2016
https://twitter.com/RespectTheAfro_/status/748972043291549696
She's Kanye Wests muse. Kanye chose Amina Blue to be the muse for his Yeezy brand debut as he was wanted to do something different and Amina embodied exactly what he was looking for.
In an interview with NY Mag, Amina explained that she was extremely surprised that she was chosen as Kanye's muse as she said,  ""I didn't think I had the body or the height to do high fashion," She made it known that "My measurements are ridiculous."
She wants to influence. On her Instagram bio, Amina states "I AM INFLUENCE". She feels she can influence people in different ways from young women gaining confidence to helping people learn and transition into veganism.
https://www.instagram.com/p/BAXXIpPTPOj/?taken-by=amina.blue&hl=en
Amina is starting her own shoe line. Speaking with  CR Fashion Book, Amina explained that she will be starting her own shoe line that will be geared towards women and it will be vegan.
She owns four pit bulls. In an interview with The Cut, Amina explains that she is the proud owner of four pit bulls. She stated that  "they sleep with her in her bed and one is probably heavier than she is. "[They're] relaxed around females, protective around men."
She also was featured in another hip hop music video. Amina was featured in a music video for A$AP Ferg & Future – New Level.
Her favorite food. Speaking with Mixed Mag, Amina Blue highlighted her favorite food, which was soy nuggets.
She had some issues at the Yeezy 4 Show. One of the highlights from the Yeezy 4 show, was not the clothing, but Amina Blue stopping mid-show to take off her heels. It appears she was wearing a pair of mules that had a thin heel. Walking in them seemed that it required a lot of concentration and in mid-walk, she took them off and continued without them.
Model Amina Blue struggles with the shoes at #YeezySeason4 pic.twitter.com/YfrSNUUOZf

— GQ Magazine (@GQMagazine) September 7, 2016