Deprecated
: The PSR-0 `Requests_...` class names in the Requests library are deprecated. Switch to the PSR-4 `WpOrg\Requests\...` class names at your earliest convenience. in
/home/jdeeze/thefactninja.com/wp-includes/class-requests.php
on line
24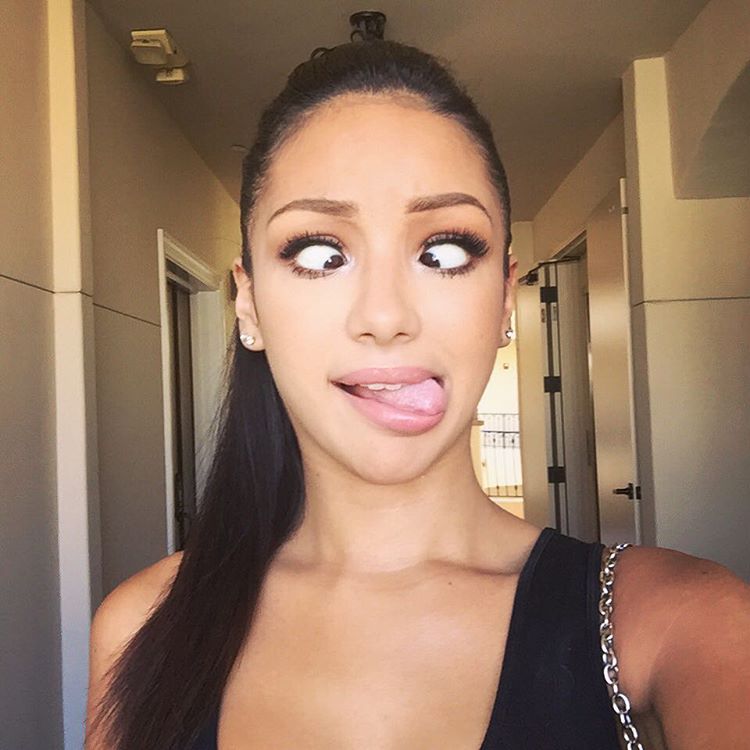 Actress, model, TV host & comedian Melanie Igelsias basically does it all and it is easy to see why she has developed a major following. She has millions of fans on the photo sharing app Instagram and she is certainly making a name for herself in all that she does.
If you are interested in her bio or just wanted to learn more about this model, then take a look at these 19 facts about Melanie Iglesias. Some of them might be surprising to you, so check it out.
https://www.instagram.com/p/BEl92AJuzF4/
Her birthday. Melaine was born June 18, 1987. Her sign is Gemini.
Where she was born & lives. Melanie was born-and-raised in Brooklyn and now lives in Manhattan.
Her ethnicity. Melanie's ethnicity is Puerto Rican, Italian, and Filipino
She has 7 siblings. That's a pretty big family! Melanie has 6 brothers and one sister.
Measurements: 32C-23-34. Height 5'6″
Maxim thinks she's hot. In 2010 Iglesias was voted Maxim's Hometown Hotties winner.
https://www.instagram.com/p/BCJeJFRuzCd/
She is into music. Melanie Iglesias has a love affair with music, as her dad is a musician. She would write songs together with her father growing up and her dream was to pursue a career in music.
Her musical influences. Melanie has cited Janet Jackson, En Vogue, TLC, Britney and Madonna as musicians who have influenced her and the type of music that she makes.
She got booted off America's Next Top Model. Speaking with Super Street Online, Iglesias explained why she was kicked off the popular modeling TV show.
"Tyra said she thought I wanted to do music more than modeling, which was completely untrue! I thought I was too short to be a model until I got the opportunity to be on the show. When I arrived in L.A., filming wasn't what I thought it would be. I was stressed and wasn't feeling the idea anymore so I didn't 'bring it.' I told some of the crew I'd be more excited if I saw a hotdog and I ended up getting booted. I still love Tyra, though. She's crazy beautiful."
She likes body hair on men. In an interview with Ask Men, Melanie explained that, "A big grooming mistake that guys make is probably getting rid of all their body hair. I think that most girls do like it and find it sexy, and when it grows back, it's kind of itchy if you're going to cuddle with them."
Het net worth. It is reported that Melanie's net worth is $200 thousand.
Biggest turn-on and turn-off in a guy? Speaking with Ask Men, Melanie explained that her biggest turn-on "is a guy who is confident and who knows what he's talking about, who is intelligent and who is eager to be the best person he can be. Somebody who recognizes that he has potential and wants to go and do something for himself and make something of his life. That's a huge turn-on."
Her biggest turn off would be "laziness. I like when a guy goes the extra mile. I think that's sexy. So when a guy is lazy, it's definitely a big no-no for me."
People are often surprised she is so normal. In an interview, Iglesias highlighted that her fans generally say the same thing when they meet her. "They're always surprised to see how "normal" I am. When I'm pushing a laundry cart to the Laundromat and I'm doing everything myself, they're like, "Oh, why are you doing this?" I'm like, "Because… I enjoy it? I'm human and my clothes are dirty! What do you mean why am I doing this?" [laughs]
Her most popular Youtube video. On Youtube, Melanie Iglesias most popular video is her doing the Cat Daddy with her friend Lisa Ramos.
What's on her bucket list? Iglesias' bucket list includes travelling to Fiji or the Galapagos, as well as hosting a game show.
She is a comedian. Melanie has been honing her craft as a standup comedian and you can catch her at local gigs in and around Los Angeles.
Ahhhh I just did standup for the first time tonight and I loved it. I think I found my new addiction.

— Melanie Iglesias (@MelanieIglesias) May 26, 2016
She is an actress. Melanie has been on TV with MTV's Guy Code (2011), Guy Court (2013). She also acted in the comedy Abnormal Attraction (2016).
She is killing it on social media. Melanie Iglesias is really popular on social media from Instagram, Yotube, Twitter and more. Her Instagram has millions of followers and her other profiles are not too bad as well.
If you want to check her out, take a look at her profiles below:
Instagram: @MelanieIglesias
Twitter: @MelanieIglesias
Snapchat Name: iamjustamermaid
Youtube: @MelanieIgl
Her Flipbook videos are pretty popular. If you go on Youtube on Melanie's channel, you can see that her flipbook videos have garnered millions of views.