Deprecated
: The PSR-0 `Requests_...` class names in the Requests library are deprecated. Switch to the PSR-4 `WpOrg\Requests\...` class names at your earliest convenience. in
/home/jdeeze/thefactninja.com/wp-includes/class-requests.php
on line
24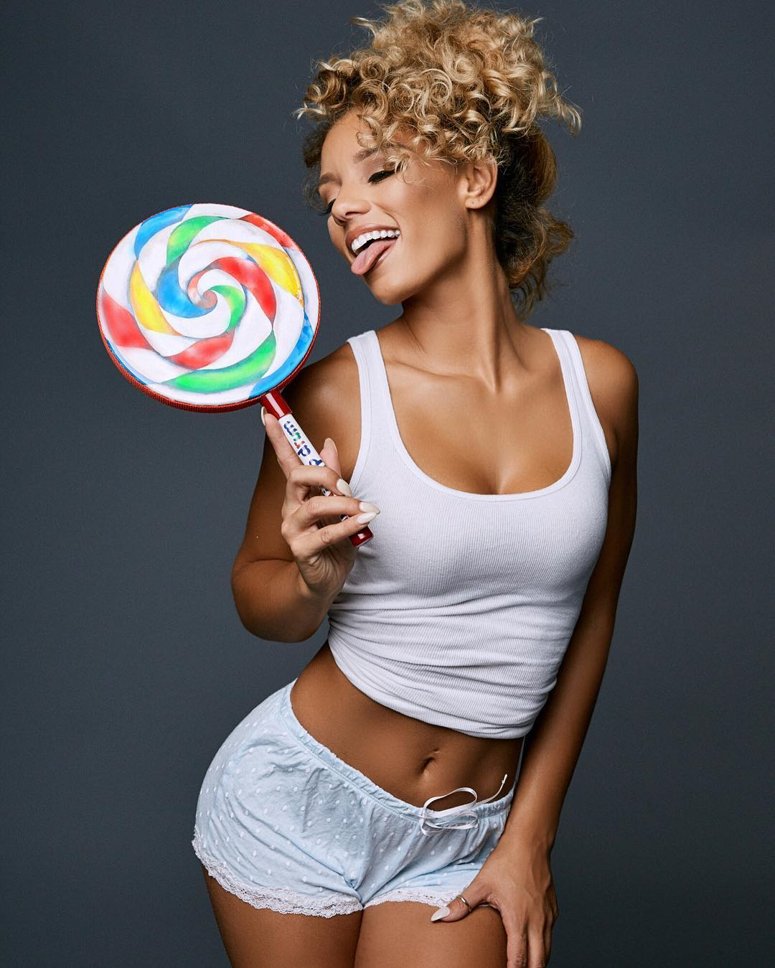 Jena Frumes is a hugely popular American social media influencer. She has developed a personal brand that is extremely popular on the photo-sharing site, Instagram.
Want to get to know her? Take a look at these 19 facts about Jena Frumes that are pretty interesting. Get a quick biography, find out her age, her birthday, boyfriends, ethnicity and much more.
Birthday. Jenna Frumes' age is [showcurrentage month="09″ day="21" year="1993″ template="1″]. Her birthday is September 21, 1993. Her Zodiac sign is Virgo.
Where she was born? Union Beach, NJ. She currently lives in Los Angeles where she is pursuing a career in modelling and entertainment.
---
---
Her Ethnicity. People are always wondering about Jena Frumes' ethnicity; is she black or mixed? She is mixed. Jenna's mother is white and dad is black. Her mother was born in Nova Scotia Canada.
Siblings. She has 2 sisters on her mother's side. She is not close to them, as they were raised separately.
Foster Child. Jena was raised in foster care. Because of that, she is not really close to her family, but she still loves them.
Eye color. She has naturally green eyes. A lot of people often think her eyes are fake, but they are 100% real.
How Tall is She? Jena Frume's height is 5 feet 4 inches
She went to college in North Carolina. Jena Frumes attended North Carolina Central University in Durham, NC. She had a Full ride scholarship, where she was studying Criminology and English. She dropped out during her junior year.
---
---
She appeared on Nick Cannon's Wild N'Out. Jena landed a spot on Nick Cannon's popular TV show, Wild N' Out. She started to get attention from her stint on the show and her popularity quickly sky-rocketed.
Antonio Brown. Jena Frumes was in a short-lived relationship with Pittsburgh Steelers Pro Bowler, Antonio Brown. The story made headlines, as Brown had left his pregnant girlfriend, Chelsie, for a whirlwind romance with Jena Frumes. The relationship was short-lived, as Brown left Frumes, to get back with Chelsie. In a TMZ Interview, Frumes explained that she had no ill-feelings towards Brown.
Jessie Lingard. In 2017, Jena Frumes was dating English footballer and Manchester United star, Jessie Lingard. The two had met in the United States in 2016. They kept in contact with each other and they began dating later in the year.
Jena would often post pictures/videos supporting Jessie by watching his games or wearing his Manchester United jersey.
The two would eventually breakup, with Jena expressing her thoughts on the dissolution of the relationship on Twitter: 'At least I can say I tried plus I enjoyed the ride. Wish you the best @JesseLingard,' . She would later delete the Tweet.
Her Pet. Jenna has a pet dog called Yoda.
She had beef with Draya. According to the Shade Room, Jena Frumes had beef with Draya Michelle. Draya was Jena's manager and she took to social media to blast her for not doing her managerial duties. Jena wanted a release from her contract, as she felt like Draya was not looking out for her best interests.
In responding to the allegations by Jena, Draya stated, "To answer your question: NO we won't be releasing you out of you contract. As a business woman, I demand that my business is taken seriously. No where in your contract does it state that I have to post you on my IG (because let's be real, that's all you want is the followers)… You don't want the advising I've been trying to give you."
Acting. Jenna wants to be an actress and she wants to focus on action films. She had a role in 2018's Meet the Blacks, that starred Mike Epps and Katt Williams.
Her Favorite Fruits. In an Instagram post, Jena Frumes made it known that pineapples and watermelons are her favorite fruits.
Favorite food. Frumes has a love for any and everything potatoes. She loves French fries, potato chips. Mashed potatoes, baked potatoes and any potato based snack.
She loves boxing
Pet peeves. Jena Frumes has a bunch of pet peeves. She does not like when people put feet on her. She hates people with clammy hands, messy bathrooms and those who invade her personal space. She also hates when the toilet seat is left up.
She has a big following on social media. Jena Frumes is killing it on social media, with millions of followers/fans. You can follow her on Instagram, Twitter, Facebook, Youtube and Vine. Her Snapchat name is JennaFrumes.