Deprecated
: The PSR-0 `Requests_...` class names in the Requests library are deprecated. Switch to the PSR-4 `WpOrg\Requests\...` class names at your earliest convenience. in
/home/jdeeze/thefactninja.com/wp-includes/class-requests.php
on line
24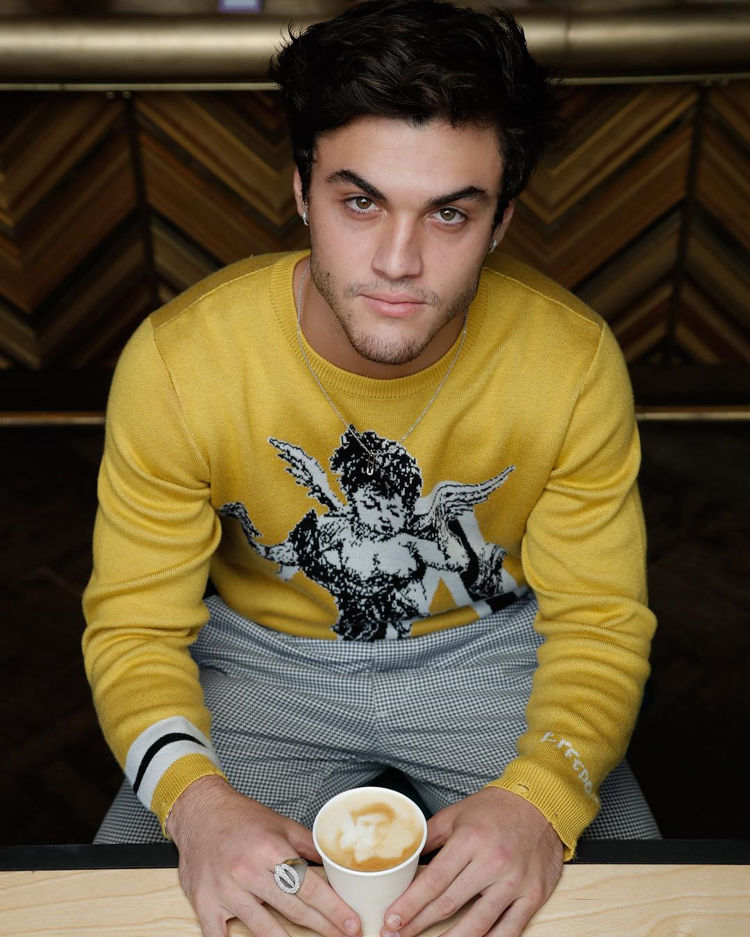 Ethan Dolan is part of the popular comedy duo 'The Dolan Twins' which has been popular on social media for about five years. Ethan rose to fame by posting short videos featuring his brother Grayson on the video sharing platform Vine.
To learn more about Ethan, check out these amazing facts like his love interests, height, favorite color and more.
Birthday: Grayson Dolan's age is [showcurrentage month="12″ day="16" year="1999″ template="1″]. His birthday is December 16, 1999. His Zodiac sign is a Sagittarius.
Birthplace. Ethan was born in Morris County, New Jersey, in the United States.
Siblings. He has two known siblings – his twin brother Grayson Dolan and an older sister Cameron. Cameron is also an Instagram and Vine Star.
Family. The comedian grew up in a nuclear family with his siblings, his father Sean Dolan – who is a School Superintendent and his mother – Lisa Dolan who owns a hair salon.
Ethnicity. Dolan is white American.
Real Name. His full name is Ethan Grant Dolan.
Ethan's body stats. Ethan is a quarter inch shy of 5 ft 11 inches and weighs approximately 161 pounds.
Who has he dated? Since his rise to fame, the Dolan has dated Meredith Mickelson and Emma Chamberlain.
Ethan was said to be in a relationship with model Meredith from the end of 2015 into early 2016. Although they never confirmed their relationship, there were subtle hints that they were indeed a couple.
Current Girlfriend. In 2018, Dolan was seen spending time with YouTuber Emma Chamberlain while jet skiing on the 4th of July. Since then the pair has been seen spending more and more time together. They haven't given an official confirmation of the relationship, despite friends saying they are a couple.
Eye Color. Ethan has brown eyes.
Natural Hair Color. His natural hair color is black.
Distinctive Features. Dolan has a mole on his right cheek that helps many to distinguish him from his twin brother. He also has the word 'Create' tattooed on the inside of his lower lip.
Education. The comedian attended West Morris Central High School and was set to complete high school in 2018.
Favorite Color. He loves red.
Popularity. Ethan and his brother have more than 3 million subscribers on YouTube and over 6 million followers on Vine.
Before the Fame. Ethan and his brother were normal high school teens posting random videos to social media before 2013. They decided to become full-time social media stars after a girl in Grayson's science class complemented him about the vines he had posted with his brother. From that point onward, the brothers took on social media as more of a career.
TV Appearances. Ethan made his first film appearance at 7 years old when he took on a role in the short drama sci-fi film Nia. Several years later in 2016, he made a guest appearance on the news show Extra as himself.
Fitness. Dolan is a huge wrestling fan and frequently partakes in the sport as a means of recreation.
He is a regular at his local gym where he has a trainer and a workout routine that has a strong emphasis on core work and intense cardio routines. Ethan also does strength training exercises to tone up his muscles – this accounts for him weighing in over 160 pounds.
Sports. Whenever he finds the time, Ethan likes to go skateboarding or surfing if the weather is right.
Fun Fact. Ethan is 20 minutes older than his twin brother Grayson.
Social Media. You can follow Ethan on social media at Instagram, Facebook, Twitter, and YouTube.