Deprecated
: The PSR-0 `Requests_...` class names in the Requests library are deprecated. Switch to the PSR-4 `WpOrg\Requests\...` class names at your earliest convenience. in
/home/jdeeze/thefactninja.com/wp-includes/class-requests.php
on line
24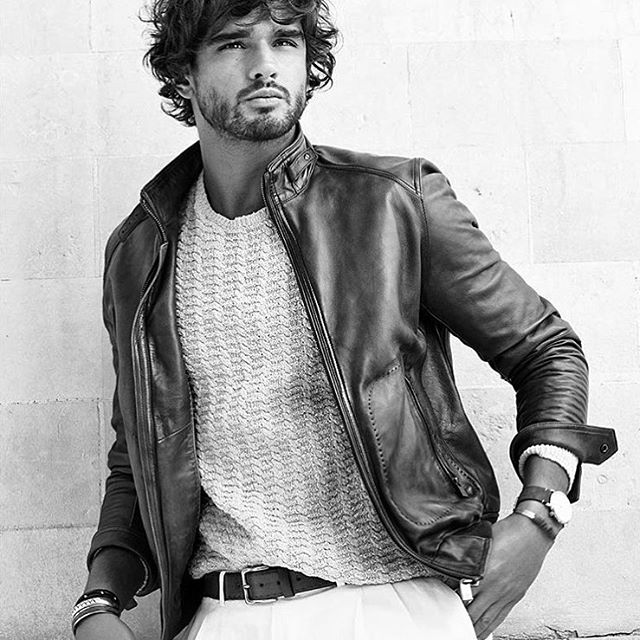 "Cool can be weird sometimes, but it's never weird to be yourself"
-Marlon Teixeira
Marlon Teixeira is without a doubt one of the hottest male models of this era. Since his debut in 2008, Teixeira's name has become synonymous with top designer brands such as Dolce & Gabbana and Armani.
The Brazilian has captured the hearts of fans across the world with his soulful eyes and his unique hair. Here are a dozen interesting facts about Marlon Teixeira that you probably didn't know.
Nationality and ethnicity? Teixeira was born in Balneario Camboriu, Santa Catarina- a major beach resort town in the south of Brazil. Despite being born in Brazil, Teixeira is not fully Brazilian. Marlon has stated that he is of Portuguese, Japanese and native Amerindian descent.
His battle with cancer. Marlon was unfortunately diagnosed with cancer of the esophagus at three years old. He spent four years going in and out of hospitals undergoing chemotherapy. Even at a young age, Marlon was a fighter and kept telling his mother not to cry because he was not going to die. He bears a scar on his chest from surgery as a reminder of the battle won.
Growing up in Santa Catarina. Teixeira spent a lot of his teenage years living between his mother, grandmother and aunt's houses. His mother had remarried and he was uncomfortable with her new spouse. A lot of his time was spent in his aunt's restaurant hanging out with his cousins.
How did he start modelling? Marlon got his big break in the industry when his grandmother introduced him to Anderson Baumgartner who was the owner of Way Model Management and a family friend. Anderson thought then 16 year old Teixeira was perfect for his agency and had him signed in no time.
When did he get his big break? Marlon's international debut came in 2008 after a few months of modelling locally in Santa Catarina. He debuted at the Spring Dior Homme show in Paris and the contracts came rolling in. By 2009 he had become the face of Dior Homme; the newcomer had taken one of the most coveted spots in the industry.
What has he achieved so far? Teixeira has been named the hottest male model of the year several times. His most successful year was probably 2011 when he was given the title by three separate magazines: Client, Made in Brazil and the Hola Magazine.
What does he do off the runway? When he is not on the runway, Marlon enjoys travelling the world. He shares pictures of his travels on his Instagram page where he has over 500,000 followers.
Among his many interesting hobbies are skating and going to the movies. Teixeira is a self-proclaimed "beach-bum" with a love for surfing. Despite his career in the modelling world, Marlon makes it clear that his passion is the sea and if not a model then he probably would have been a surfer.
What are his quirks? Marlon absolutely loves kiwi juice and he likes to listen to music before he goes surfing the high seas. The Phoenix band is his favourite group to listen to.
Family? Marlon lost his father when he was only a year old, he was murdered. He has an unbreakable bond with his mother Claudia and has her name tattooed on his right thigh. He bought her a car when he was just 18 years old and sends her money monthly from his earnings. Marlon also has two younger sisters Natasha and Natielli.
Diet and Exercise. Like any other star in the industry, Teixeira has a few "beauty" secrets for maintaining his body. The model has a very healthy diet made up of mostly fruits, vegetables and grains. His love for the beach ensures that he soaks up plenty of sun while surfing, but Marlon says he also tries yoga and pilates because after all, a healthy body works best with a healthy mind.
One of his most memorable moments. Teixeira recalls his first trip to Europe as one of his most memorable. He fondly told the story of receiving his first paycheck of 2000 euros: "It was an incredible feeling. The first thing I bought was an iPod, some glasses Dolce & Gabbana for my mom and a perfume for my girlfriend. For me, some lenses, were outrageous 300 euros. Those 2000 euros were as much, I thought I had reached the top. "
One of his worst moments abroad. Once he travelled to London for a photo shoot and was detained at the airport. At the time he only spoke Portuguese and did not know what was happening. Marlon says he was handcuffed and placed in a cell with a concrete bed, and given only a bottle of water and a sandwich for several hours. Thankfully he was helped by a Portuguese speaking Italian. Marlon still does not know why he was detained as his papers were in order.