Deprecated
: The PSR-0 `Requests_...` class names in the Requests library are deprecated. Switch to the PSR-4 `WpOrg\Requests\...` class names at your earliest convenience. in
/home/jdeeze/thefactninja.com/wp-includes/class-requests.php
on line
24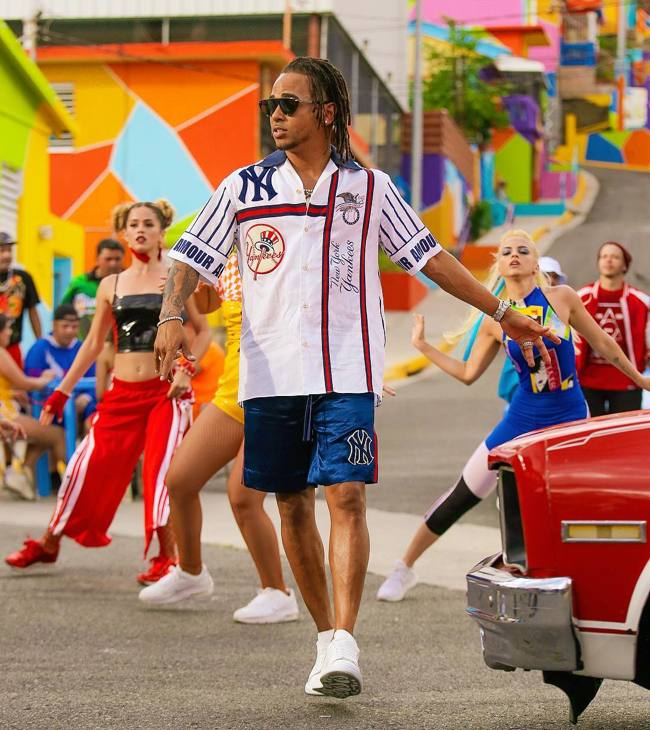 Reggaetón singer Ozuna is one of the most popular performers in Puerto Rico and Latin America. With a YouTube following of more than 17 million followers, the singer has gained international acclaim for songs like Si No Te Quiere and No Quiere Enamorarse.
To learn more about this upcoming Hispanic star, take a look at these 19 interesting facts like his real name, age, birthday, wife, home country and many more.
Birthday. Ozuna's age is [showcurrentage month="03″ day="13" year="1992″ template="1″]. His birthday is March 13th, 1992. His Zodiac sign is a Pisces.
Birthplace. Ozuna was born in San Juan, Puerto Rico. He moved to New York City in 2010.
Parents. The singer's father was killed in a shooting when he was only 3 years old. He was raised by his grandmother, as his mother Yomary Rosado Marrero was not financially stable.
Family. He is married to Taina Marie Meléndez. They got married before Ozuna became popular and have two children together – daughter, Sofia and son, Jacob.
Ethnicity. Ozuna identifies as Hispanic. He has Dominican ancestry on his father's side, and Puerto Rican heritage on his mother's.
Real Name. The singer's real name is Juan Carlos Ozuna Rosado.
Ozuna's body stats. Ozuna is approximately 5 ft. 6 inches and weighs 143 pounds.
Eye Color. He has light brown eyes that are one of his most distinctive feature. His light-colored eyes led to him being the nicknamed El negrito de ojos claros.
Natural Hair Color. Rosado has black hair.
Distinctive Features. The singer sports locked hair which he occasionally dyes in unique colors.
Name Change. Early in his career, he used to perform under the stage name of "J Oz", but later change to one of his middle names – Ozuna.
Before the Fame. Rosado's interest in music was sparked when he was gifted his first microphone – a Samsung model – by his paternal uncle, Feliz at12 years old. He started writing songs in the next year when he was 13.
He started building his music career with performances in the Big Apple (New York City) in the early 2000s.
Career Breakthrough. Ozuna's first official single was released in 2012 and was titled Imaginando. In 2014, he got his first big breakthrough as he signed a contract with the record label, Golden Family Records.
Album Sales. His debut studio album, Odisea, was released in August 2017 and has achieved immense success since. The album reached the top of US Billboard Top Latin Albums chart, and sold more than 360 thousand units in the United States.
His second studio album Aura, was recently released on August 24, 2018, and debuted at number seven on the US Billboard 200.
Tours. In May 2017 Rosado went on his first official music tour, Odidea Tour. He performed in more than 25 cities in the United States.
To promote his second album Ozuna embarked on the Aura Tour on July 26, 2018. He will make stops in Madrid and the U.S.
Records Held. The singer's album Odisea holds the record for the longest time spent at number one on the Billboard Top Latin Albums chart. The album topped the chart for over 30 weeks.
Brand Endorsements. Ozuna has been featured in TV commercials for established car brand Toyota.
TV Shows. The singer made his first TV show appearance in the Hispanic drama series Hermanos en la clandestinidad.
Popularity. Ozuna is immensely popular on social media. His official YouTube channel has more than 17 million subscribers, his Instagram has over 10 million followers and his Facebook has 4 million followers and counting.
Social Media. You can follow Ozuna on social media at Instagram, Facebook, Twitter, YouTube and Snapchat: @ozunapr