Deprecated
: The PSR-0 `Requests_...` class names in the Requests library are deprecated. Switch to the PSR-4 `WpOrg\Requests\...` class names at your earliest convenience. in
/home/jdeeze/thefactninja.com/wp-includes/class-requests.php
on line
24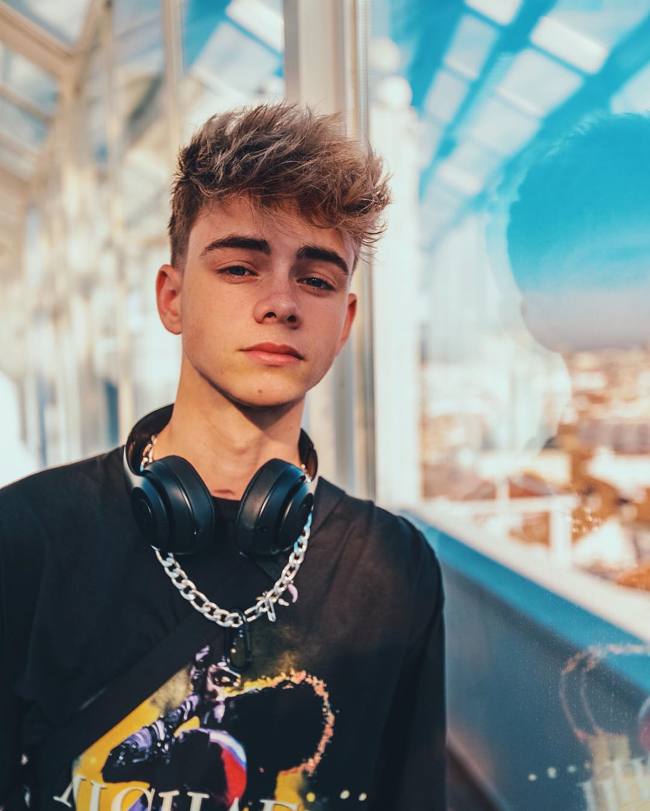 Corbyn Besson is a young American singer, song writer and social media personality, most popularly known for his role in the band Why Don't We (WDW) along with other members Jack Avery, Daniel Seavey, Jonah Marais, and Zach Herron. Before joining the band, Besson embarked on a mildly successful solo career producing singles such as "The Only One" which gained some traction on platforms such as iTunes.
To learn more about Corbyn, check out these 21 amazing facts like his age, birthday, childhood interests, his girlfriend and more.
Birthday. Corbyn Besson's age is [showcurrentage month="11″ day="25" year="1998″ template="1″]. His birthday is November 25, 1998. His Zodiac sign is a Sagittarius.
Birthplace. Corbyn  was born in Texas, United States, but later moved to Fairfax, Virginia as a young child. Most recently, he's moved to Los Angeles, California to live with his band mates.
Siblings. The singer has two siblings – younger brother Jordan Besson and younger sister Ashley Besson.
Ethnicity. Corbyn is white.
Real Name. The singer's stage name – Corbyn Besson, is actually his given birth name. His middle name is Matthew.
How Tall is He? Corbyn  Besson's height is approximately 5 ft 8 inches tall and weighs 137 pounds.
Who has he dated? The singer is reportedly dating social media star, Christina Marie Harris, also known as Beauty Chickee. The starting timeline of their relationship isn't known, but there are dozens of pictures of the couple together on their respective social media.
Eye Color. He has cool green eyes.
Natural Hair Color. Corbyn's natural hair color is Dark Brown. He however tends to dye his hair blonde.
Favorite Things. The singer loves Italian food!
Animals. He has an adorable ten-year-old dog named Cody. Cody is featured regularly on Corbyn's social media.
Musical Interest. Corbyn Besson knew that he wanted to be a musician when his parents surprised him with an electric guitar in the third grade. He's been playing instruments and studying music since!
Sports. In his free time, the singer enjoys skate boarding. He also enjoys snowboarding in the winter!
Interests. The singer is collecting souvenirs from all the countries that he travels to on tour as a special gift for his family.
Before the Fame. Corbyn has always been interested in music. At 12 years old, he got his first guitar and spent almost all his time playing and writing music thereafter.
Talents. He plays several musical instruments including the guitar.
Rise to Fame. Before his musical debut, Corbyn was a YouNow broadcaster, where he earned upwards of 100,000 followers. Following that he branched out to Instagram, where he posted his first singing video at just 14-years-old! Corbyn's sister filmed him singing "Boomerang" by The Summer Set, and the cover quickly went viral, gaining the young star even more fame.
Solo Career. Corbyn Besson uploaded his first single "The Only One" to iTunes and YouNow in 2014. He also has an original song called "Marathons" which he performed solo.
Other Pursuits. The singer loves photography. He almost always has a camera with him.
Health Issues. The singer had to have an emergency surgery in July 2018. He told his fans that he had a huge swollen infection in his throat that was covering his airway and making it tough for him to breathe
Social Media. You can follow Corbyn Besson on social media at Instagram, YouTube, and Twitter.