Deprecated
: The PSR-0 `Requests_...` class names in the Requests library are deprecated. Switch to the PSR-4 `WpOrg\Requests\...` class names at your earliest convenience. in
/home/jdeeze/thefactninja.com/wp-includes/class-requests.php
on line
24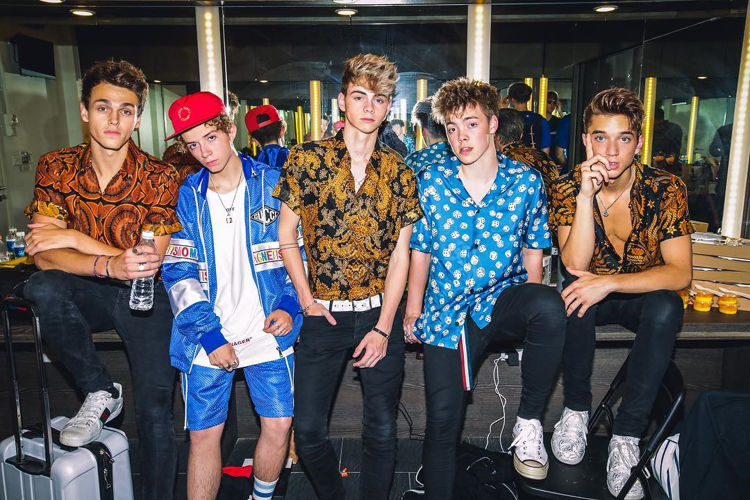 Why Don't We (often known as WDW) is an American pop band. The group has five members: Daniel Seavey, Jack Avery, Corbyn Besson, Zach Herron, and Jonah Marais. They are known for such songs as "8 Letters", "Trust Fund Baby" and "Something Different".
Want to get to know them better? Take a look at these 15 facts about pop group, Why Don't We.
Who Are the Why Don't We Members?
The members of Why Don't We are:
Daniel Seavey
,
Zach Herron
,
Corbyn Besson
,
Jonah Marais
, and
Jack Avery
.
Where Are the Why Don't We Members From?
Avery is from Pennsylvania, Corbyn is from Virginia, Daniel is from Washington, Jonah is from Minnesota and Zach is from Texas.
In an interview with Billboard, Besson, explained why each of them growing up around the country has had such a big impact on the group.
"We've all grown up around the country too, little different cultures and being raised up differently. We all kind of rub off on each other, in a way, to get into new music and new ideas."
What Does the Name Why Don't We Mean?
Corbyn explained perfectly what the name of the group means, during an interview with SweetyHigh.com
Besson explained "We were all super excited about starting the group and were like "well, why don't we do it?!" I think it just stuck because it applies to so many spontaneous situations we've experienced as a band."
How Did Why Don't We Get Started?
Each member of WDW were all originally solo artists. They got together in Los Angeles and the idea of creating a group just made sense.
Seavey explained "I was on American Idol, and that was hard just trying to keep up with everybody and the music wasn't really me. But when I met these guys, it was magic and it clicked. We all loved the same music – we all have some Drake and Kendrick in us, but also have some Justin Bieber, Jon Bellion and these different sides to us. It was just a lot more fun with these guys"
When Did They Start?
The band officially formed on Sept. 27, 2016.
Their First 9 Months
In the first 9 months of coming together, the group, Why Don't We quickly gained 1 million followers on Instagram. Their "Something Different" tour was also sold out.
WDW's Musical Style
While Why Don't We shouldn't be classified as a pop boy band. It has some pop influences, but it is "a bit more urban driven" with some R&B sprinkled in. The members explained that they are a fusion of different styles.
Daniel Seavey stated that "If Justin Bieber, Justin Timberlake and The Chainsmokers all had a baby, it would be our style of music."
Speaking with Fuse.tv, Jonah Marais explained "Our music and the sound of it isn't what you expect from a typical boy band," he elaborated that "It's got a more urban influence, a little more R&B in there, I think, we're taking artists we're listening to—Drakes of the world, Kendricks of the world—and we put those influences into our music."
The Justin Bieber Influence
Justin Bieber has been a huge influence on the band members and each one has taken some amount of inspiration from the Biebs. Some of the members explained this influence in an interview with Billboard.com
Corbyn Besson stated "For me, it was really cool to see his personal journey. Growing up as a kid in the spotlight, kind of losing his head a little bit, and getting back on track. I could kind of, in a way, learn from his mistakes. It was just really cool to see him find himself and come back from living in the fast lane a little bit too much."
Jonah Marais on Bieber, "I went to see him at show in 2009 – seeing a 15-year-old perform in front of an entire stadium was really inspiring to me. That was a moment where I was like, "I want to do that."
Daniel Seavey "I think music-wise, not being afraid to take risks – he was always kind of pushing his sound, and that's always pretty inspiring."
Other Musical Influences?
Why Don't We look at the Beatles and boy band NSYNC as some of their other musical inspirations. Jonah is also a huge fan of Ed Sheeran.
Between Them, They Play A lot of Instruments
Between the five members, they all can play 25 instruments.
They've Toured With Heavyweight Pop Stars
The band has also been on a couple of tour dates with Demi Lovato, Taylor Swift, and The Chainsmokers.
WDW Favorite Food
If they want a quick fix, the guys' go-to food place is Chipotle.
Quirky Facts
Zach is obsessed with bandana's and he keeps on collecting more.
Avery is addicted to gum
Jonah's go-to Starbucks drink is a venti caramel latte.
Corbyn loves airports. He has collected postcards at each one he visits.
Why They Have Released EP's
The group has released a ton of music since they have been together, specifically EPs and singles. When asked why was that in a sit down with Mcall.com
Corbyn Besson explained "We've grown up with social media, and so that's been, like one of the biggest parts of our lives. And on social media, everything is very quick, and attention spans are short. And it's just, you want more content, more content. You want to be fed more stuff. More all the time.
"And so we were, like, instead of waiting a whole year to do, you know, 10 to 15 songs, let's break it up, and every three, four months – sometimes even quicker than that – let's just put out five songs.
"And it's worked out well for us. The fans love it, and every time something comes out, it just feels like they're getting something brand new – something new. So instead of getting something brand new one time a year, you're getting something brand new three times a year."
Their Moms Were Freaked out When They Did MTV's TRL
The group appeared on MTV's revamped Total Request Live (TRL). They explained what the experience was like, especially for their mothers.
Daniel Seavey "First of all, when our moms found out, they all were freaking out, 'cause that was their show back then! When they heard it was coming back and we were helping to revamp the thing, it was pretty crazy. We were all pretty young when it was the biggest it was, but hearing all of what our parents used to … that was, like, their main show to watch. It was pretty crazy to help bring that show back. And it was really fun."
They Have Preshow Rituals
During an interview with ticketmaster.co.uk, the group was asked if they have any preshow rituals. Jack explained "We have this band kinda handshake that we came up with literally the first show we ever did and we've kept it as a ritual where we all have to do the exact handshake with each other right before we go on stage for good luck."
Why Don't We and Selena Gomez
During an Interview with People TV, the group was asked if they could walk up to any celebrity and serenade them, who would it be? They all agreed that Selena Gomez would definitely be the one.
Why Don't We Social Media