Deprecated
: The PSR-0 `Requests_...` class names in the Requests library are deprecated. Switch to the PSR-4 `WpOrg\Requests\...` class names at your earliest convenience. in
/home/jdeeze/thefactninja.com/wp-includes/class-requests.php
on line
24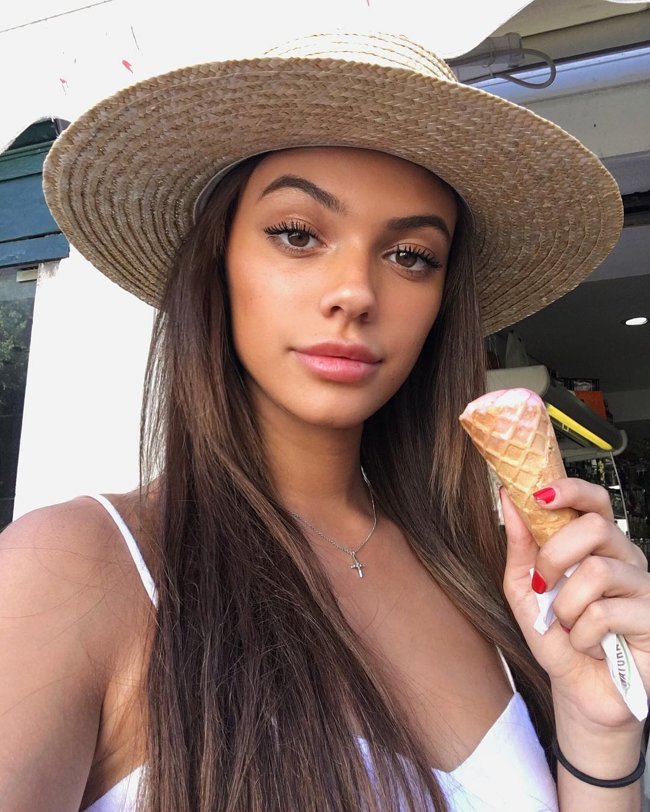 Kelsey Calemine is one of the most popular up and coming Instagram Stars out there right now. With millions of followers across her social media profiles, she is taking her followers along for the ride, as she posts the perfect pictures with her captivating beauty.
A lot of people out there are interested in a short biography or more information on Kelsey. Below, I will highlight the Top 13 Facts About Kelsey Calemine.
1. Birthday
. January 14th, 1999. Her birth sign is Capricorn.
2. Hometown. Los Angeles, California.
3. Family Kelsey has a younger step brother.
4. Ethnicity. On her Ask.FM page, Kelsey indicated that she is Italian. She also stated that she can speak a bit of Italian.
5. Height. Kelsey Calemine height is 5' 6"
6. She Wore Braces. When she was 13, she had braces. That is why she has such an amazing smile.
7. Rise in Popularity
Under her Instagram account @fatherkels, Kelsey has a massive following (over 1 million people). Instagram was the first social network she signed up with, then jumped on to Twitter in October 2013. Her popularity got a major push when Lucy Hale tried to figure out if she was real or a Photoshop.
8. The Mix of Kylie Jenner and Lucy Hale . 
In 2016, actress Lucy Hale brought a ton of attention to Kelsey Calemine when she posted an picture of Kelsey on her Instagram  stating: 'If Lucy Hale and Kylie Jenner had a child it would look like this'.
For the caption of the picture, she wrote 'What. Is this a real person or morphing?'
Kelsey was indeed real and people were amazed at the uncanny resemblance with Lucy Hale and Kylie Jenner
9. She is a Close Friend of Madison Beer. Kelsey is a close friend of actress and singer Madison Beer. Speaking with Flaunt magazine, she explained how she became friends with Madison. "She basically found a photo of me on Tumblr and then shared it to her Instagram and she was like 'Who is this girl I'm obsessed with her!?' and then she found out and tagged me and then she slid into my DMs and said 'Let's get married please!' and I was like 'OK!'"
She went into more detail as to how the relationship grew. "Literally months later I was at the flea market on Melrose, and Madison ran up to me and was like "KELSEY!" and I was like "HI!" and at first I didn't even know who she was and then I realized it was Madison and then she literally kidnapped me and took me to the aquarium and then we had a sleepover and then we became best friends."
10. Sahar Luna
Kelsey Calemine is also good friends with fellow Instagram model/star, Sahar Luna.
11. She Loved Baby Spice from the Spice Girls
In an interview with Galore Mag, Kelsey Calemine explained that her favorite Spice Girl was Baby Spice. Calemine explained that "She's always been my favorite and I definitely went through a phase in my younger years where I wore pig tails in my hair for a solid couple months…"
12. Favorite Ice Cream. Speaking with Galore Mag, Kelsey explained that cotton candy was her favorite flavor and it also matches her hair at times.
13. Social Media. Kelsey Calemine is famous because of social media and she has a ton load of followers who want to get a peek into her interesting life. You can connect with her on Instagram, Snapchat and Twitter.
Instagram – fatherkels
Twitter – @kindakels
Snapchat Name – kelseycaleminee