22. Tatyana Ali Shared Her First Kiss with Millions of People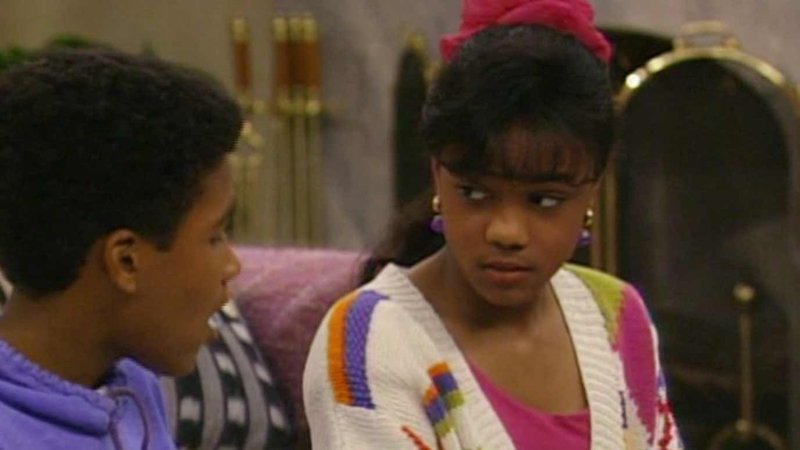 Tatyana Ali who played Ashley Banks spent her formative teenage years in front of the camera, while working on the Fresh Prince of Bel-Air. Some of her adolescent milestones were captured on film and these moments were often shared with millions.
One such milestone was Tatyana's first kiss. In an article she wrote for Mashable, she explained the lead up to her first kiss.
There were episodes where Ashley's adolescent milestones were also my own, even my first kiss. "I had, in fact, never kissed anyone. Where would I have found the time? I was always there on set — and when I wasn't, I was too busy being a dork with my nose in my schoolbooks."
She also explained what happened when she finally got the kiss.
"Karyn Parsons [who played Hillary Banks] peaked behind one camera, while Will and Alfonso peaked behind another. Everyone had these puppy-dog eyes and stupid little smiles on their faces. They thought it was so damn cute.
When it happened, I think I actually heard "aaaawwwwwws." It was the longest 1/4 of a second of my life."
23. Only 4 Cast Members Appeared in All Epsidoes
Will (Will Smith), Carlton (Alfonso Ribeiro), Hilary (Karyn Parsons) and Uncle Phil (James Avery) are the only cast members who appear in every episode. In the episode "Love in an Elevator", Karyn Parsons does not appear in that episode, but a flashback scene was played, so she was technically still in it.
24. Tyra Banks' First Acting Gig Was the Fresh Prince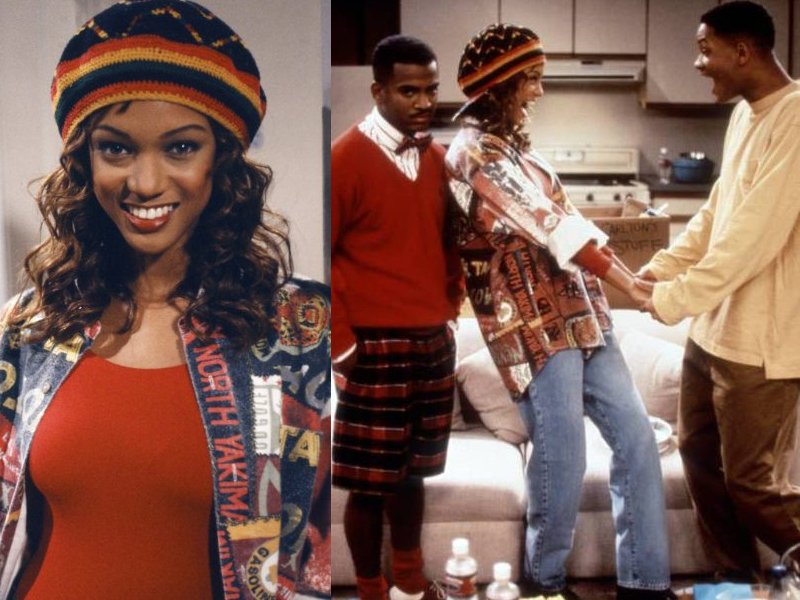 Supermodel Tyra Banks had her first acting job on the fourth season of The Fresh Prince of Bel-Air. She played Will's childhood friend, Jackie Ames, who eventually went on to become his girlfriend. Tyra acted in seven episodes of the fourth season.
25. Will Smith Met His Wife on the Set of the TV Show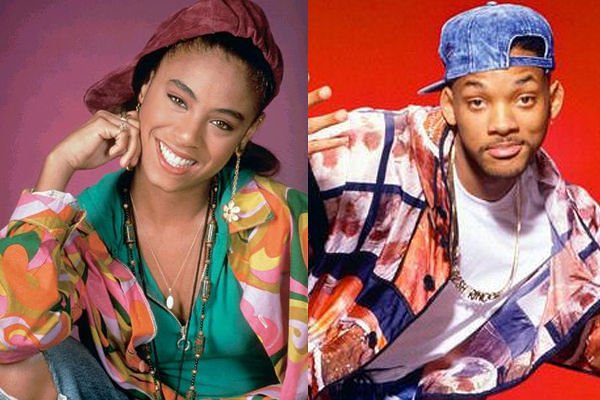 Jada Pinkett Smith, Will Smith's wife actually met for the first time on the set of  the TV show. She was auditioning for the role of Will's girlfriend, Lisa Wilkes. Jada did not get the job as she was considered to be too short and there was also no chemistry between the two. Nia Long got the role instead, but three years later Jada and Will got married.
26. Will's Girlfriend Lisa's Real Name Isn't Lisa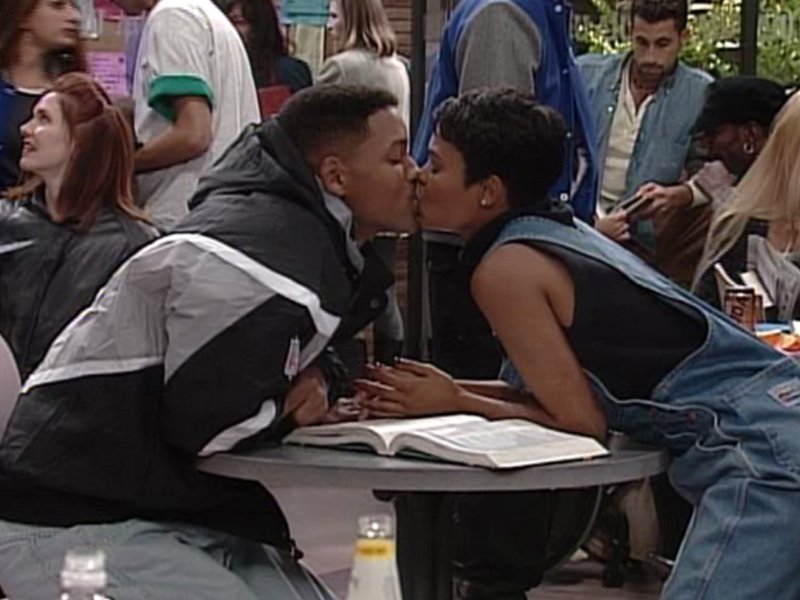 We all know Nia Long as Lisa, Will's girlfriend and fiancé, however her name isn't really Lisa. Her real name was Beulah Wilkes, Lisa was her nickname.
27. Jimmy Fallon Did a Pretty Cool Fresh Prince Remake
When Jimmy Fallon moved the Tonight Show from New York to Los Angeles, he did a pretty cool tribute to the Fresh Prince of Belair. He recreated the TV show's intro and even had a cameo by Carlton, doing his famous dance.
28. The Mascot at Will & Carlton's College Is a tribute to NBC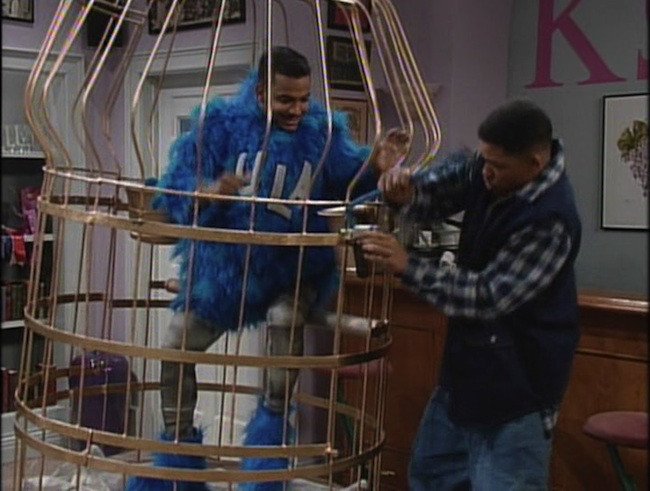 The mascot at Will and Carlton's college, ULA, is a peacock. This is a tribute to NBC, the network on which the Fresh Prince was aired. NBC used the peacock for years as its logo.
29. Three Cast Members Were of Trinidadian Descent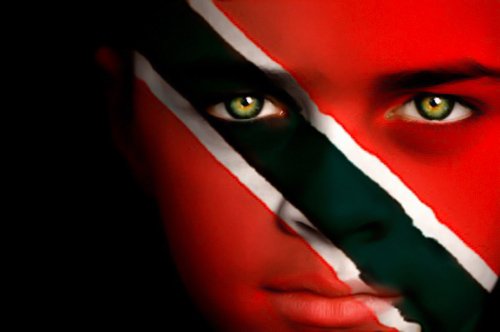 Carlton (Alfonso Ribeiro's) parents, Ashley (Tatyana Ali's) father and Hilary (Karyn Parsons) mother are all from the island nation of Trinidad and Tobago.
Pages ( 4 of 4 ):
Notice
: Undefined index: type in
/home/jdeeze/thefactninja.com/wp-content/plugins/pagination/pagination.php
on line
753
« Previous
Notice
: Undefined index: type in
/home/jdeeze/thefactninja.com/wp-content/plugins/pagination/pagination.php
on line
753
1
Notice
: Undefined index: type in
/home/jdeeze/thefactninja.com/wp-content/plugins/pagination/pagination.php
on line
753
2
Notice
: Undefined index: type in
/home/jdeeze/thefactninja.com/wp-content/plugins/pagination/pagination.php
on line
753
3
4