Deprecated
: The PSR-0 `Requests_...` class names in the Requests library are deprecated. Switch to the PSR-4 `WpOrg\Requests\...` class names at your earliest convenience. in
/home/jdeeze/thefactninja.com/wp-includes/class-requests.php
on line
24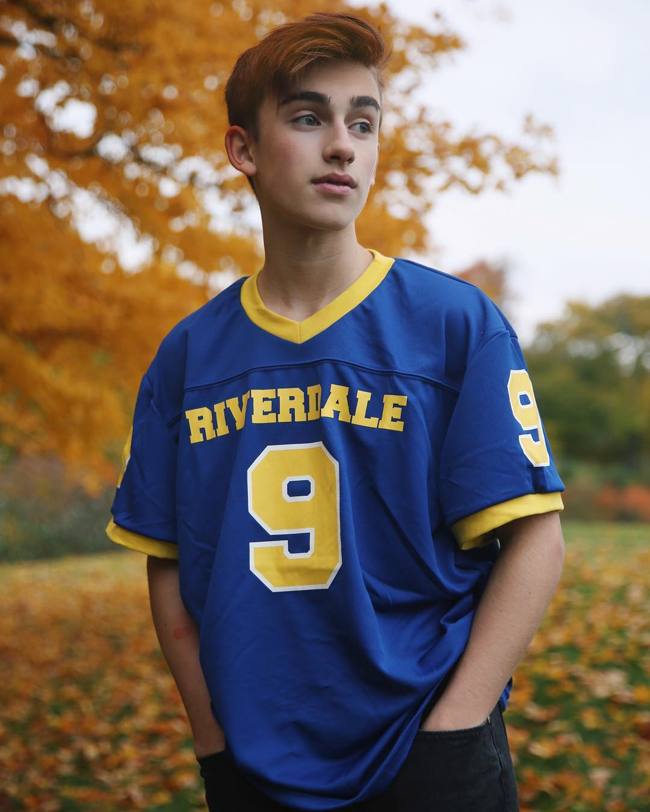 Johnny Orlando is a fifteen-year-old singer and YouTube star that is being hailed as the next Justin Bieber. With millions of followers on social media and a burgeoning music career, Johnny could very well be the world's next mega pop star.
To learn more about Johnny Orlando, check out these 27 amazing facts like his age, birthday, birthplace, talents, film appearances and much more.
Birthday
. Johnny Orlando's age is [showcurrentage month="01″ day="24" year="2003″ template="1″]. His birthday is January 24, 2003. His Zodiac sign is an Aquarius.
Birthplace. Johnny was born in Mississauga, in Ontario, Canada. He recently moved to Los Angeles in the United States to further his music career.
Siblings. The singer has three siblings that are publicly known. He has two older sisters – Darian Orlando who is a YouTuber and Madison Orlando who is an Instagram Star. Younger sister Lauren Orlando also vlogs on YouTube.
Family. Orlando comes from a big family of six. His parents are Dale and Meredith Orlando.
Real Name. The singer's stage name – Johnny Orlando, is also his real name.
Johnny's body stats. The teen is still growing, at last check he was 5 ft 1 inch tall and weighed about 110 pounds.
Favorite Movies. He is a big fan of Forrest Gump and Jack Reacher
Favorite Song – Favorite Girl by Justin Bieber
Favorite Food.  Orlando loves steak.
Favorite Starbucks Drinks?
If there is one thing Johnny loves at
Starbucks
, it would have to be the Very Berry Hibiscus Refresher
Who has he dated? Johnny has been linked to two girls since his debut. In 2016, he was rumored to be dating famous dancer and actress Mackenzie Ziegler. Reports were that the pair had grown close while shooting for the music video, Day & Night.
Later that year he was said to be dating dancer, model, and actress Nadia Turner.
Eye Color. The singer has stark green eyes.
Natural Hair Color. Johnny Orlando's natural hair is black.
Distinctive Traits. Orlando is a lover of hats and is almost always wearing one.
Instruments. He plays the guitar.
Education. Orlando graduated from middle school in June 2017.
Sports. He is very active and loves the outdoorsy lifestyle where he is able to find solitude in nature. He also loves skating.
Before the Fame. Johnny started singing at just 6 years old and used to take part in musicals at his school. He started creating his videos at the age of 8 with the help of his older sister Darian.
First Original Song. The YouTuber's first-ever original song that was posted to his YouTube channel is Summertime. He was 9 years old at the time.  
First Accredited Single. Johnny Orlando is well known for his official song, Let Go. The song was released on YouTube in 2016. The official music video for the song has gained more than 13 million views on the platform.
Favorite TV Show. Speaking with Paper Magazine, Orlando highlighted that his favorite show on Netflix would be he TWalking Dead or Stranger Things.
Social Media Presence. The singer has a strong presence on various social media sites including Instagram where he has almost 5 million followers. His official YouTube channel has almost 3 million subscribers.
Album/Musical Debut. Orlando released his first EP, Vxiixi at just twelve years old in December 2015.
TV/Film Appearances. The YouTuber had his first credited appearance in 2016 when he played a role in the mini-series Neighborhood Eats.
He was also featured as a voice artiste in the 2017 animated movie Bunyan and Babe, where he contributed his voice to the character of Travis Barclay.
Magazine Flicks. Johnny was the cover image for the March/April 2018 issue of TigerBeat magazine.
Inspired By. Orlando is a huge fan of Justin Bieber and started out doing covers of the artiste's songs on his social media platforms. He also looks up to Austin Mahone.
Social Media. You can follow Johnny Orlando on social media at Instagram, Facebook, YouTube, Twitter, and Snapchat Name: @JohnnyOsnap