Deprecated
: The PSR-0 `Requests_...` class names in the Requests library are deprecated. Switch to the PSR-4 `WpOrg\Requests\...` class names at your earliest convenience. in
/home/jdeeze/thefactninja.com/wp-includes/class-requests.php
on line
24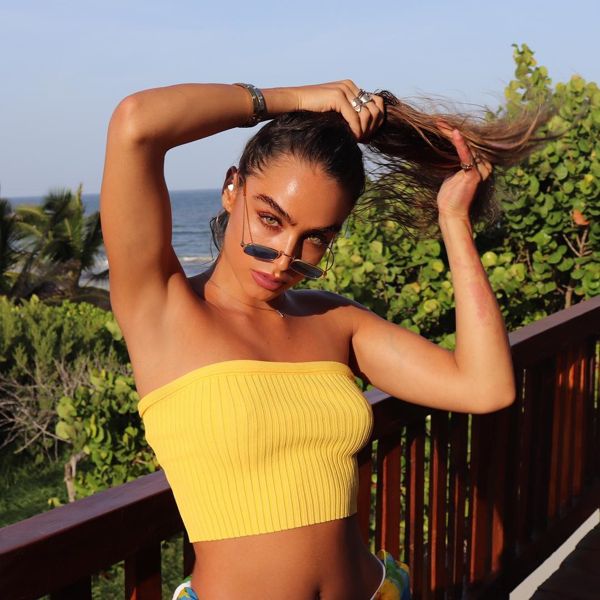 Sommer Ray is an American fitness model, who has amassed millions of followers through the photo sharing app,  Instagram. She started posting videos and photos of her daily fitness routine in 2016 and her popularity has skyrocketed since then.
Below, we look at 16 Sommer Ray Facts, that every fan should know.
Birthday.  Sommer Ray's  age is [showcurrentage month="9″ day="15″ year="1996″ template="1″]. Her birthday is September 15, 1996.  Her sign is Virgo
Hometown. She grew up in Larkspur, Colorado, which is south of Denver. Sommer explained her growing up in an interview. "I grew up on a ranch in Colorado, 40 acres, we had like 30 horses because my mom also had a boarding facility, plus chickens and goats, and I did the rodeo stuff,"
She now lives in Los Angeles, California.
Competitive Bodybuilding. She started modeling when she was only 14 years old. When she turned 16, she became a fitness bikini model. In 2015, she won 1st place in the NPC Colorado State Championship for Teen Bikini.
Homeschool. Ray moved to Lone Tree, Colorado and attended Castle View High School, where she experienced severe bullying due to her fitness photos she posted on Instagram, she would later drop out and be homeschooled.
She explained what happened in an interview with Cosmopolitan.com. "I was slut-shamed in a way — everyone from my hometown judged me," she says of the bare-bottomed photos she began taking before her account took off. "They didn't understand when I posted pictures of my ass on Instagram, it was because I'd worked hard for it. It's not a sexualized thing."
Siblings. She has 2 sisters named Savana and Skylyn, as well as a brother named Bronson. Her younger brother and sister are twins.
Parents: Her father was a competitive bodybuilder and was the one who got Sommer into competitive bodybuilding. Her mother, Shannon Ray, used to be a beauty writer, as well as a competitive bodybuilder.
Ethnicity. Sommer Ray is of Czechoslovakian descent on her mother's side. Her father was adopted and she is unsure of his ethnicity.
Tattoos or Piercings? She has indicated that she is a big of fan piercings and would never get a tattoo, even though she has a vid of herself getting one on her channel.
Birthmark. Sommer Ray has a birthmark on her left arm. When she was younger she hated it, but now she embraces it as she feels it gives her character and she has grown to love it.
Favorite Colors. She loves pink and olive
Eye color. Green.
Measurements. Her height is 5' 6" and she weighs 140 lbs.
Boyfriend. She is currently dating a man named Bennett.
RiceGum. Sommer Ray was previously in a relationship with Bryan Le, a famous Youtuber, better as RiceGum
Cloutgang – Sommer Ray is a part of the popular YouTube "Cloudgang". This group includes personalities such as RiceGum, Alissa Violet, FaZe Banks, FaZe Rug, The Martinez Twins, Amar Koomz, Ugly God, and RiceGum.
This group was formed as a response to Jake Paul's group called "Team 10".
Future Kids. Sommer has indicated that she would love 3 kids sometime in the future. Since her name is close to Summer, she would name them the months She would name them off the months of summer, June, July and Summer.
Butt. There are many who believe that Sommer Ray's butt is fake. She insists that what you see in the photos is 100% real. In a Cosmo interview, she explained why nothing on her body is fake "If there's something not permanent on my face like a zit, I'll smooth it," she says of the tweaks she makes before posting. "If I take a photo at a bad angle, I just won't post it. I don't Photoshop my body because it would feel like a false advertisement."
Sliding in the DM's. Sommer Ray has millions of followers and often time she gets a ton of strange requests. People have asked her to go to the prom, for her underwear and more. In her interview with Big Boy TV, she stated that there are a couple of celebrities who have slid into her DM. She names Trey Songz, The Game and Chris Brown as just some of the few who have landed in her inbox.
Social Media. Sommer has an insane social media following, in the millions, across her various social media accounts. You can follow her at:
Instagram: @Sommerray
Twitter @Sommerray
Snapchat Name @sommerrayy