Deprecated
: The PSR-0 `Requests_...` class names in the Requests library are deprecated. Switch to the PSR-4 `WpOrg\Requests\...` class names at your earliest convenience. in
/home/jdeeze/thefactninja.com/wp-includes/class-requests.php
on line
24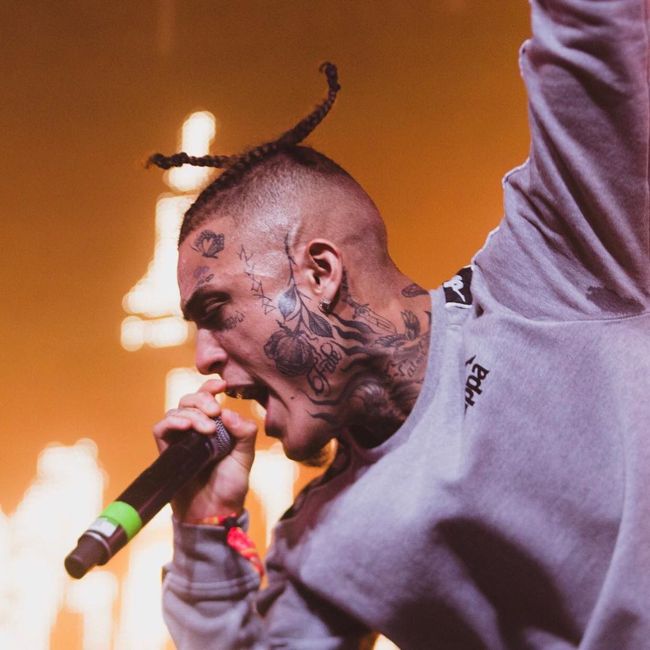 Lil Skies is an American Hip-Hop artist that is known for his top singles, Nowadays and Red Roses.
Take a look at these 17 facts About Lil Skies. Get a quick biography, his age, birthday, tattoos and more.
https://www.instagram.com/p/BnAXUrmAHv1/?taken-by=lilskies
Birthday. Lil Skies' age is [showcurrentage month="8″ day="4" year="1998″ template="1″]. His birthday is August 4th, 1998. His Zodiac sign is Leo.
Birthplace. Chambersburg, Pennsylvania, United States. When he was in the 3rd grade, his family migrated to Waynesboro, Pennsylvania.
Real Name. Kimetrius Foose
How Tall is He? He is 5 feet 10 inches or 178 cm
Ethnicity. Lil Skies is mixed. His mother is white and his father is black.
Music. Lil Skies wanted to be a musical artist from the age of 3 years old. He wrote and recorded his first song at 4 years old. He released his first mixtape when he was 18 years old.
How Did He Get His Name? His father used to rap and he had the name 'Dark Skies'. He picked up the name 'Lil Skies' from the girls who used to work with his father. He would later take on the name as his stage name.
Father's Near Death Experience. In 2010, Lil Skies' father was severely injured in a workplace chemical explosion at the Rust-Oleum plant close to Williamsport, Maryland. His father would suffer from 3rd degree burns.
https://www.instagram.com/p/BlEHB9Vgw2i/?taken-by=lilskies
Music Idols – Lil Wayne, Travis Scott and 50 Cent
School. He attended Waynesboro Area Senior High School and after that he went to study at the Shippensburg University.
In a Billboard article he explains why he stopped going to classes and dropped out. "I just noticed I was going to class, and I wasn't paying attention anymore. I was paying attention at first, but I stopped taking that s**t seriously. I was still going to class, but I wasn't doing homework and s**t. I would go home after class and drop my books and just go to my friend's house and get high all day, rollin' up and working on music. Then, I had a show with Fetty Wap and s**t. This was like when Fetty was big."
Craziest thing ever done? Skies Jumped out a car while it was moving.
Dog. He has a dog named Skylo.
Tattoos. Lil Skies got his face tattooed to make sure that he would never be able to get a regular job.
When asked about getting more face tattoos, he told Billboard in an interview "Hell no. I'm probably not getting no more now, 'cause I done took up like hella space, but I stay getting new tats, man. That s**t's like music. It's just something that grows with me. I just be going with the flow. I know for sure that when I get a new tat, it's for life. I don't got no regrets with any of my tats. I got tattoos that are really old looking, old feeling, but at the same time, I like it. It's art to me."
Whem asked if he has around 50-60, Lil Skies replied "I might be up there for real. I don't even remember when I stopped counting. I got a lot now." He also spoke about his most meaningful tattoo "My most meaningful one is the one I got for my friend Shaq. I never mention this one. I got these two on my wrist for my pops. It says April 28th, 2010. That's the day my dad almost died and s**t."
He also explains some of his tats in a Youtube interview
Career Path. Lil Skies revealed that growing up, his dream job was "to be like Bear Grylls on Man vs. Wild". He also explained that the one skill he would love to master is tattooing.
Madden 19 Soundtrack. Skies got a song "Welcome to the Rodeo" on the Madden 19 Soundtrack
Selling Drugs. Before he was really on in the music, Lil Skies admitted that he was selling drugs during that time period "Yeah, I was still selling drugs. For a while. I was being more low-key about this s**t, but I had to take care of my s**t. I had bills and s**t. I knew what it was. I have face tats, so I know I'm not gonna be able to get a job. I swear if I was working a job at that time, I would not be here in this seat today."
Social Media. You can follow Lil Skies on his various social media accounts on Instagram, Twitter, YouTube, SoundCloud, and Facebook.